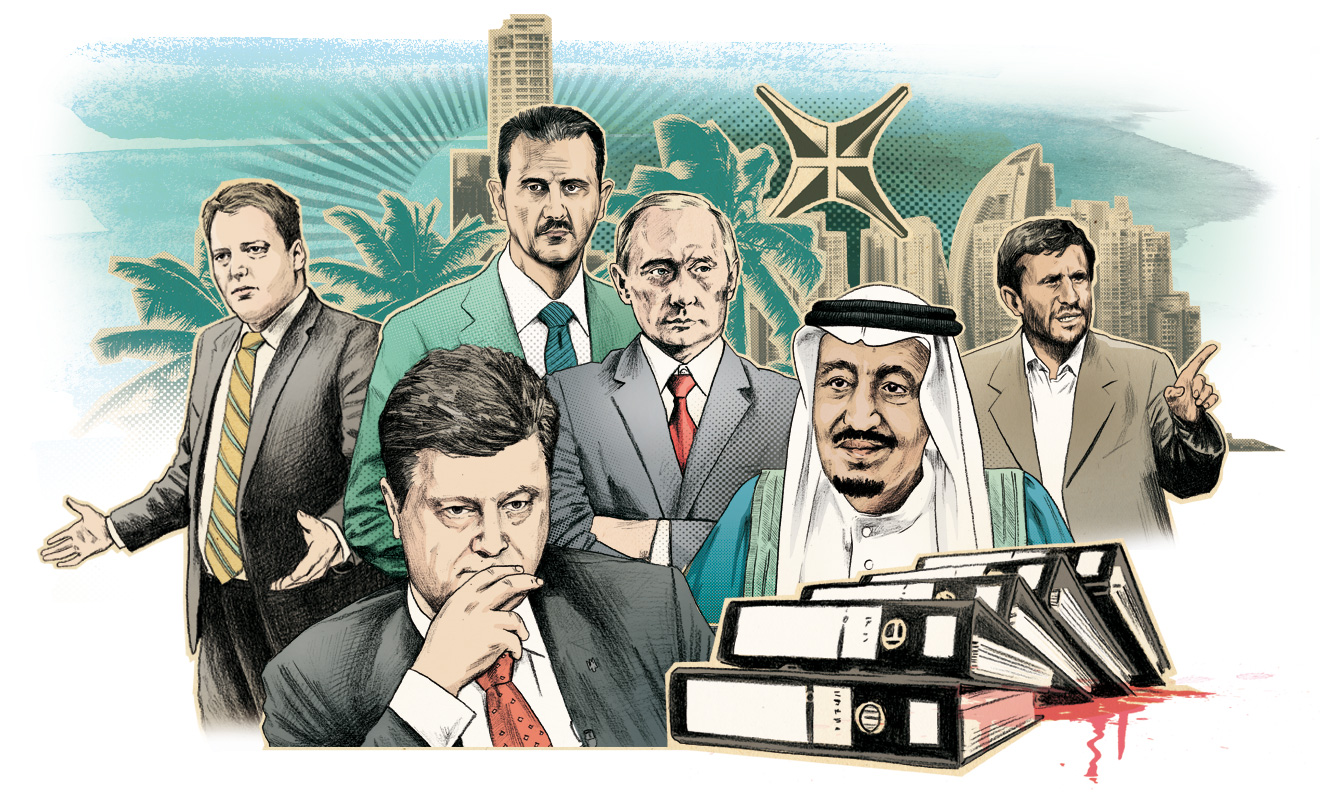 The Firm
Even from a distance, the view of Panama City is impressive. Dozens of skyscrapers line the Pacific coast and hint at great wealth – some of it from the business of hidden money. As the plane approaches Panama City, the container ships queuing for the Panama Canal fall into view, and the rainforest can just about be deciphered on the horizon. Somewhere in between, right behind the skyscrapers, lies the financial district and the headquarters of Mossack Fonseca. The Panamanian law firm has not only helped prime ministers, kings and presidents hide their money. It has also provided services to dictators, drug cartels, Mafia clans, fraudsters, weapons dealers, and regimes like North Korea or Iran. In brief, it seems Mossack Fonseca has helped and continues to help the world's biggest villains cover up their doings.
In focus: the German's law firm
Down in the financial district, hardly anyone refers to Mossack Fonseca's founder, 68-year-old Jürgen Mossack, by his name. He is known only as "the German".
Mossack and his law firm have been selling anonymous shell companies for almost 40 years. In many instances, they have also provided sham directors for these companies with the purpose of covering up who's really behind them. Mossack Fonseca is one of the biggest providers of such services in the world. Now the law firm is at the center of the Panama Papers, a project that began with the Süddeutsche Zeitung (SZ).
Starting more than a year ago, an anonymous source began sending the SZ internal Mossack Fonseca data. Over a period of several months, the volume of data increased to a total of 2.6 terabytes. For the past year, around 400 investigative reporters from more than 110 media organizations in over 80 countries have been poring over this enormous mass of data. SZ and the International Consortium of Investigative Journalists (ICIJ) in Washington have coordinated the project.
It is difficult to pick the most spectacular story. There are clues that appear to lead to Vladimir's Putin's innermost circle and hundreds of millions of dollars. Another story reveals that Iceland's current prime minister and two of his ministers held offshore companies. The doings of corrupt FIFA officials also appear in the data, as does FC Barcelona's superstar Lionel Messi.

The leak extends far beyond the law firm's clients. The documents reveal that Mossack Fonseca, Mossfon for short, may have failed to observe the law in a number of instances. It appears that sanctions may have been violated using Mossfon structures, and that the firm possibly aided and abetted tax evaders and operated with money from illegal sources. The leak, which includes about five million emails, contains an abundance of clues that Mossfon employees also knew about the questionable dealings of their clients.
As a result of the leak, Mossack Fonseca has lost its unique selling point, namely its ability to guarantee utmost confidentiality.
Searching for clues in Panama City
The drive from the airport to the financial district is a journey through the extremes that define Panama City. Just a few hundred meters away from crowded slums, the facades of the city's skyscrapers sparkle in the sun. By comparison, the three-story glass building that houses Mossack Fonseca's headquarters looks like a relic from another era.
Security guards patrol the building's entrance. According to internal emails, the reception desk keeps a list of personae non gratae, and journalists are particularly unwelcome.
The Süddeutsche Zeitung too was denied an interview with Jürgen Mossack. His spokeswoman explained that the law firm's partners never give interviews. And yet there is so much to talk about. Questions addressed to him, delivered to his personal address in a letter, were left unanswered. In an email, Mossack answered only that the requested period for a response was too short. When SZ offered more time, Mossack didn't respond.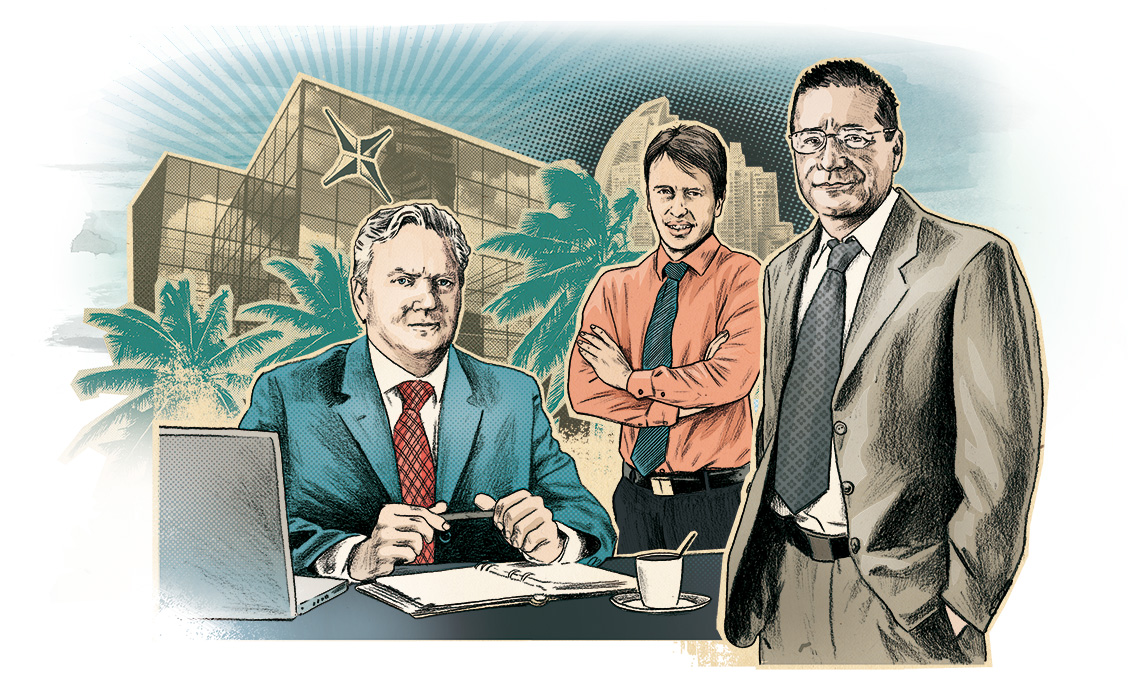 Jürgen Mossack's law firm left about 50 questions regarding its activities unanswered. Instead, it responded only with a very general statement affirming that Mossack Fonseca always acts in accordance with the law.
It's no coincidence that "the German's" law firm should thrive in Panama. Tucked between Costa Rica and Colombia, the tiny Central American country is home to more offshore providers than any other country in the world. Evidently, the heart of the offshore world beats right here in the tropics.
Jürgen Mossack was born in 1948 in Fürth, Germany, thousands of kilometers from Panama. His mother was a saleswoman and his father a mechanical engineer. The family moved to Panama from Germany in the early 1960s, where Jürgen Mossack went to school and then studied law. After graduation, he worked for law firms in Panama and London before founding the Jürgen Mossack Law Firm in Panama City in 1977.
At the time, the corrupt General Omar Torrijos's military junta ruled the country. In 1983, the dictator Manuel Noriega took over. Despite political upheaval, business was good for Mossack's law firm, which specialized in shell companies. During Noriega's reign, Panama became the banking center of Colombia's Medellín drug cartel, in part because the corrupt dictator was on the payroll of several drug traffickers. In Panama, these criminals found a place where they could do their business reliably and safely, away from the public eye.
Jürgen Mossack apparently provided services to at least one of the era's big drug bosses, the Mexican Caro Quintero. After Quintero had an American secret agent kidnapped, tortured and killed in 1985, the United States launched a manhunt to track him down. He was arrested in April 1985. Only a few days before his arrest, one of his middlemen had Mossack Fonseca set up a company to hide Quintero's fortune. A villa in Costa Rica was part of this fortune. Jürgen Mossack himself acted as its sham director.
In an internal email exchange that addressed the Costa Rican villa, Jürgen Mossack wrote:
"Pablo Escobar was a baby compared to R. Caro Quintero. I wouldn't want to be among those he visits after he is released from prison."
As the years progressed, "the German" gained a certain reputation in Panama. A source says that he isn't particularly selective about his clients. In his personal interactions, he is considered direct, quick-tempered, and assertive. He is known as a man of few words, but of quick decisions. And, as the source has experienced himself, it is best to stay on Mossack's good side, otherwise things can get unpleasant.
In the spring of 1986, Mossack joined forces with Ramón Fonseca Mora, a Panamanian lawyer, and the Mossack Fonseca law firm was born. Today, the 64-year-old Ramón Fonseca is a political heavyweight in Panama. He has advised several presidents, is deputy chairman of the Panameñista governing party, and sits in the cabinet of Panama's current president Juan Varela.
In mid-March, Süddeutsche Zeitung also sent Ramón Fonseca a request for comment on all allegations. Fonseca, too, didn't respond to the questions. However, several days later, he announced that he would temporarily be stepping down from his function as presidential advisor and co-chairman of the governing party. Fonseca, who also happens to be a prize-winning writer, announced on Twitter that he was doing this to "defend his company and his honor".
Subsequently, his fans launched diatribes against the critics of the legal offshore business in the comments sections of Panamanian news sites.
In official statements, Mossack Fonseca has repeatedly stated that it does not work directly with end clients, but only with intermediaries, such as banks or asset management companies. In fact, Mossfon even offers its end clients anonymous email addresses if desired, with fake names such as "Winnie the Pooh" and "Harry Potter", or "Fighter", "Azkaban", "Father", "Daughter", or "Son". These names even appear in formal correspondence:
From: Mossfon Trust Corporation To: Winnie Pooh
We are writing in reference to our meeting with Harry Potter and our phone call from two days ago.
Does this really pass for a normal client relationship?
In Panama City's financial district, "the German's company" is rumored to take a somewhat more relaxed approach towards the rules and regulations of the business than it claims. It is no wonder, then, that Mossack Fonseca has been implicated in a number of scandals in the past.
Mossack Fonseca's business model is based on a simple principle: clients can have an anonymous company set up for as little as 1000 dollars. For an extra fee, Mossfon provides a sham director for the company, thus hiding its true owner. From the outside, the company is a black box: no one sees what is going on inside.

Generally speaking, owning an offshore company is not illegal in itself. In fact, establishing an offshore company can seem like a logical step for a broad range of business transactions. However, a look through the Panama Papers very quickly reveals that concealing the identities of the true company owners appears to be the primary aim in the vast majority of cases.
The Papers show how the global offshore industry cooperates with major banks, law firms, and asset management companies to secretly manage the fortunes of politicians, FIFA officials, fraudsters, and drug dealers, as well as of billionaires, celebrities, and sports stars.
According to Igor Angelini, the head of Europol's Financial Intelligence Group, shell companies also "play an important role in large-scale money laundering activities." The same, he says, applies for corruption: offshore companies are often used to "transfer bribe money". In the four decades since it was founded, Mossfon has set up, sold, and managed hundreds of thousands of these companies in Panama, in the British Virgin Islands, or in other tax havens.
Mossack Fonseca's branch and partner offices, too, are spread out all
over the world.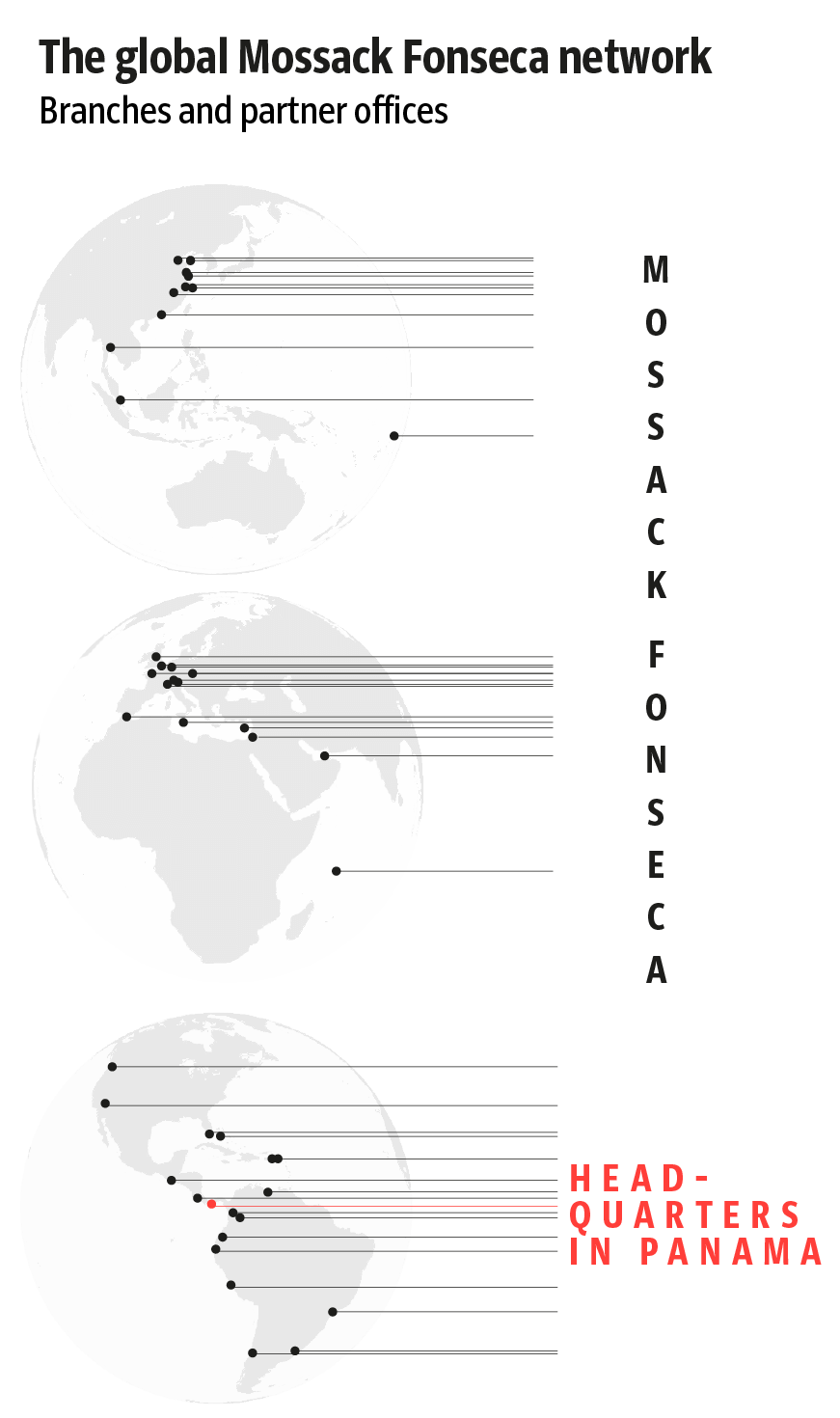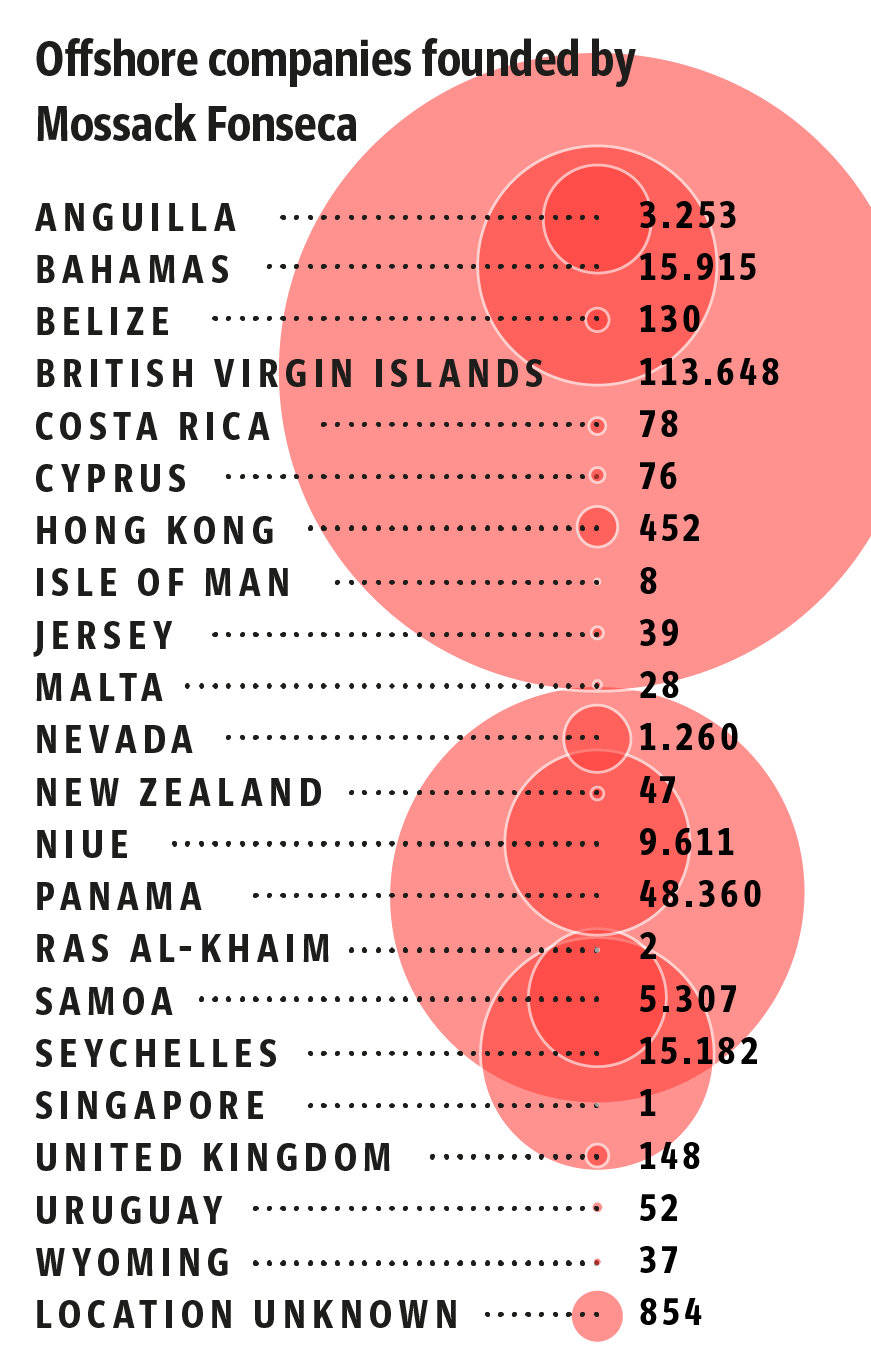 Mossack Fonseca's branch and partner offices, too, are spread out all over the world.
The offshore business is a world of its own, with special procedures. The Panama Papers include various documents that provide detailed insights into the business of shell companies. The millions of files and documents paint an interesting picture.
For example, individuals appointed by Mossack Fonseca served as sham directors for hundreds or even thousands of companies. These people signed blank templates for documents or contracts, supposedly without knowing what would be done with their signature and these documents later on. The corresponding contractual details were added to the documents as needed, depending on the Mossfon client's intentions.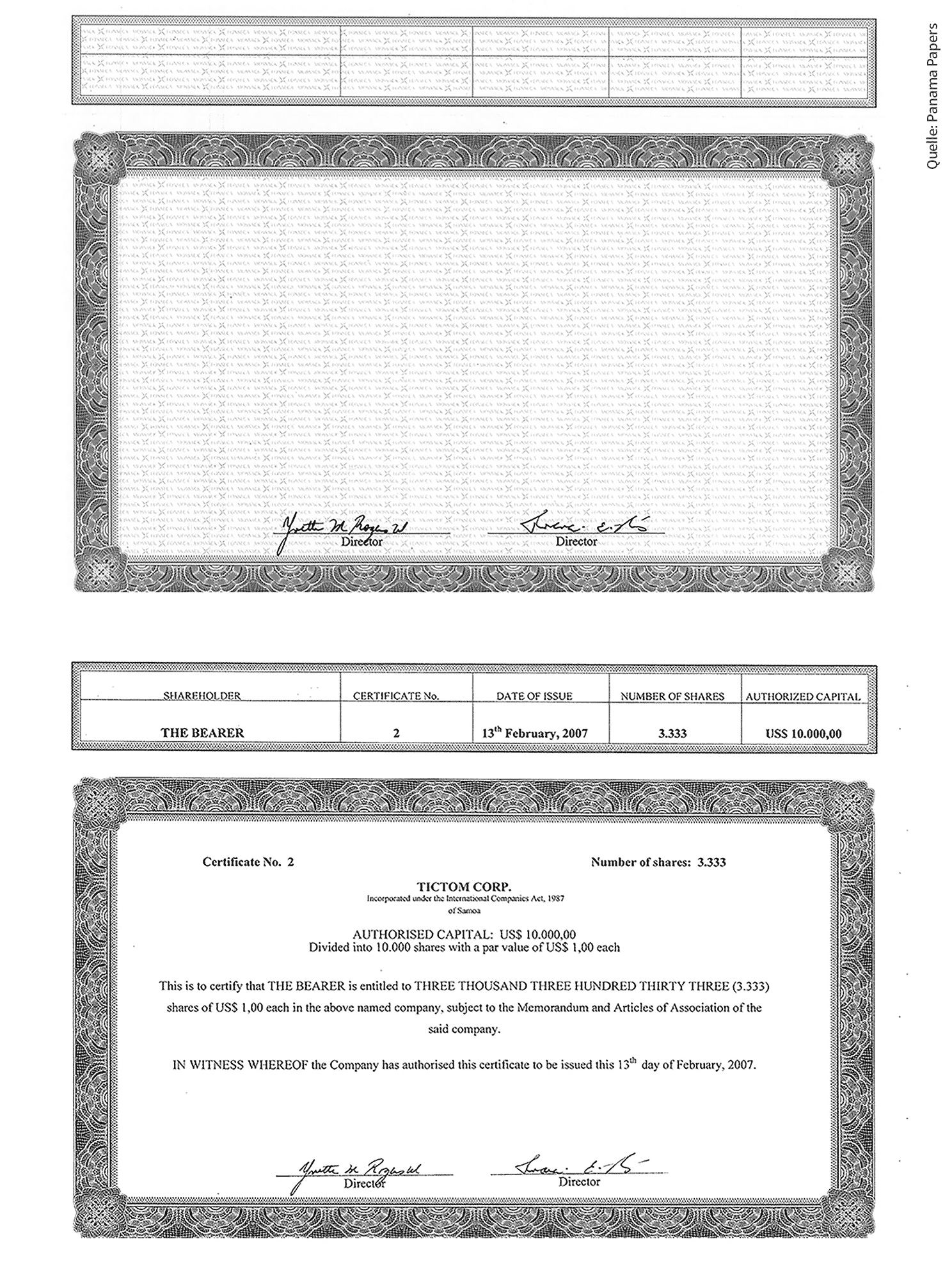 Just a few weeks ago, several employees of the Mossfon office in Brazil were temporarily arrested. They are suspected of being involved in the Lava Jato scandal, one of the biggest corruption scandals in Latin America. Several billion US dollars have allegedly vanished through hidden channels. An employee allegedly hid documents from the police and then destroyed them. A Brazilian state prosecutor explained that there is evidence suggesting that Mossack Fonseca is "a giant money laundering operation".
According to SZ information, Mossack Fonseca executives have been under investigation for a while now. Some time ago, German investigators purchased internal Mossack Fonseca data from a whistleblower. While this material comprises only a fraction of the Panama Papers, the evidence was sufficient to carry out a raid at the Commerzbank and search the homes of end clients and bankers in about 100 instances. The Commerzbank agreed to pay EUR 17 million to close the investigation.
It is safe to assume that further investigations will be launched once the Panama Papers research has been published in more than 80 countries.
Christoph Zollinger, 57, may also be the subject of future investigation. For years, the Swiss attorney was Mossack Fonseca's third partner. However, some time ago he largely retreated from the company. After 15 years at Mossack Fonseca, Zollinger stated that he couldn't "identify with the offshore business as such."
These days, anyone who talks to people from the financial sector in Panama City's cafés and offices will encounter an overwhelmingly understanding crowd. Indeed, there is a widespread sense of pride among the lawyers, competitors, and former Mossack Fonseca business partners, as well as a feeling that the tiny country has achieved a great deal. Few of them are likely to mention that Panama is widely considered around the world to be a tax haven, that the country is still on the EU's black list, or that it was just recently removed from the OECD's grey list. Nor are they likely to acknowledge that Mossack Fonseca was linked to the helpers of dictators, even before the Panama Papers revelations. Instead, all of this tends to be attributed to the envy and resentment of other countries. Panama's elite is a small, close-knit society.
In these circles, Jürgen Mossack wields authority. Unlike Ramón Fonseca he is not someone who revels in public appearances. But he does appreciate the insignia of power. For several years, he was a member of the Panamanian government's "national council of foreign relations". He is also a respected member of the Rotary Club as well as of several professional associations. Over the years, he has bought himself a helicopter and a yacht, in addition to stately vehicles.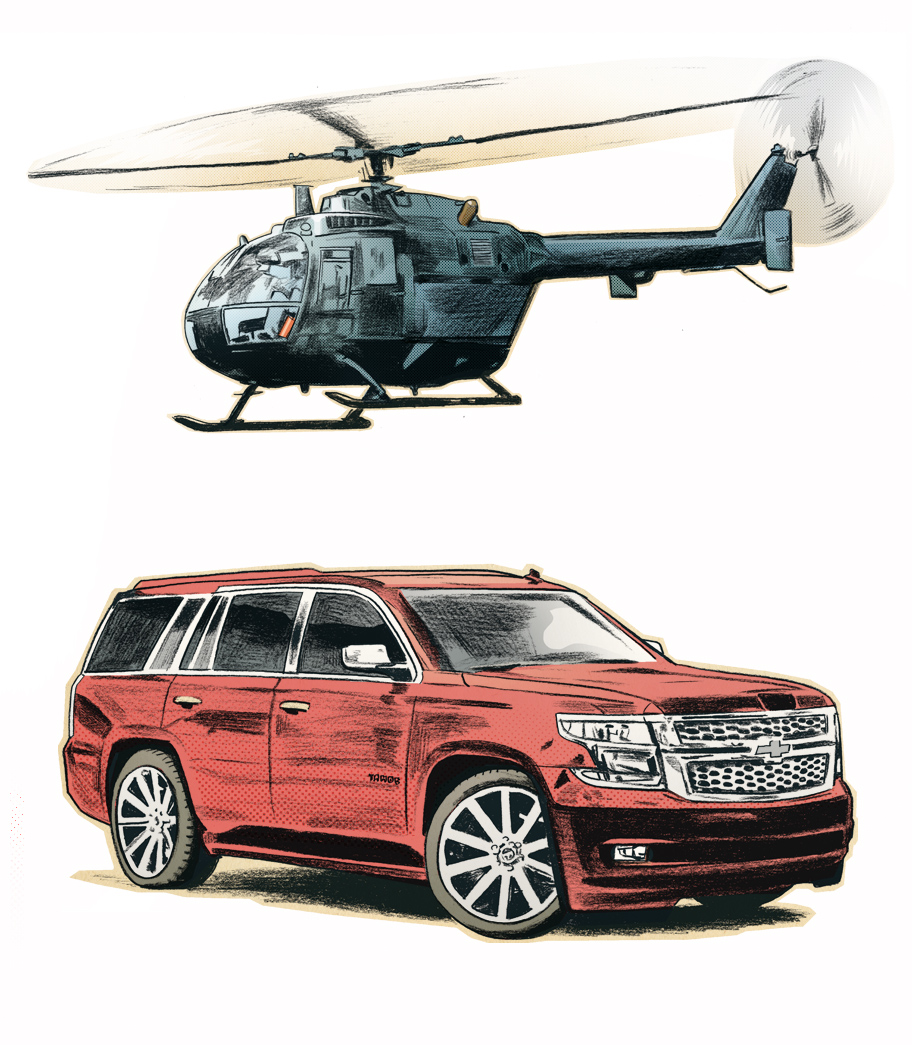 For people like Jürgen Mossack, the offshore business has proven extremely lucrative. Evidently, "the German" is a multimillionaire.
Jürgen Mossack lives in Altos de Golf, a wealthy Panama City neighborhood, the streets of which are lined with villas. He resides in a luxurious villa tucked behind a high wall. His home seems befitting of his status. Large SUVs and expensive limousines are parked along the streets, and cameras observe visitors from the corners of the walls that separate the properties from the world outside. This is in addition to the barbed wire, electric fences, and guards that serve to protect Panama's rich and powerful from intruders. Two former Panamanian presidents live close by, and even former dictator Manuel Noriega lived here in the 1980s.
Waffen-SS, CIA, BND
By the time Jürgen Mossack became a successful businessman in Panama, his family had long since moved back to Germany. Apparently, his parents returned in the early 1970s, as did his sister and brother, who is now Panama's Honorary Consul in Wiesbaden. Mossack's parents moved back to Munich, where his father, Erhard Mossack, had been taken into custody by US troops immediately after World War II. Mossack served in a Waffen SS skull and bones regiment.
And that's not all: Germany's Federal Intelligence Service (BND) returned an SZ request for comment about Erhard Mossack without any information. While the service does have documents about him, it stated the information contained therein "could put the well-being of Federal Republic of Germany at risk".
It may seem ironic that this man's son also does business with all sides: the leaked documents show CIA officials as well as BND employees, weapons smugglers, drug traffickers, and helpers of the North Korean and Iranian regimes – among them Rami Maklouf, the cousin of Syrian dictator Bashar al Assad. Makhlouf is thought to be the regime's financier, and has thus been on almost every sanctions list for years. According to the Panama Papers, he provided funds for the production of poison gas and the operation of torture facilities. These funds were also moved through Mossfon's offshore companies. Makhlouf had already been a Mossfon client for 15 years when the company's compliance department warned that it would be well-advised to end their business relationship with him. The Mossfon partners did not show any concern. Christoph Zollinger, the Swiss partner, answered that there was no cause for worry. He wrote that he didn't see any facts, only rumors. Today, Zollinger says that this decision was a mistake.
In the spring of 2015, the Swiss daily Tagesanzeiger asked Mossack Fonseca why the company had done business with Assad's cousin. A spokeswoman answered that Mossack Fonseca did not know that Mr. Makhlouf or any other Assad allies used or abused Mossfons's services, either directly or indirectly.
Knowingly violating sanctions could become a problem for Jürgen Mossack. As far as is known, "the German" still holds German citizenship. If he did aid someone in bypassing UN sanctions, he could face several years in prison. At the moment, this may just be one problem among many for Jürgen Mossack.
Mossack Fonseca's responses to SZs requests for comment about this research project are documented here.