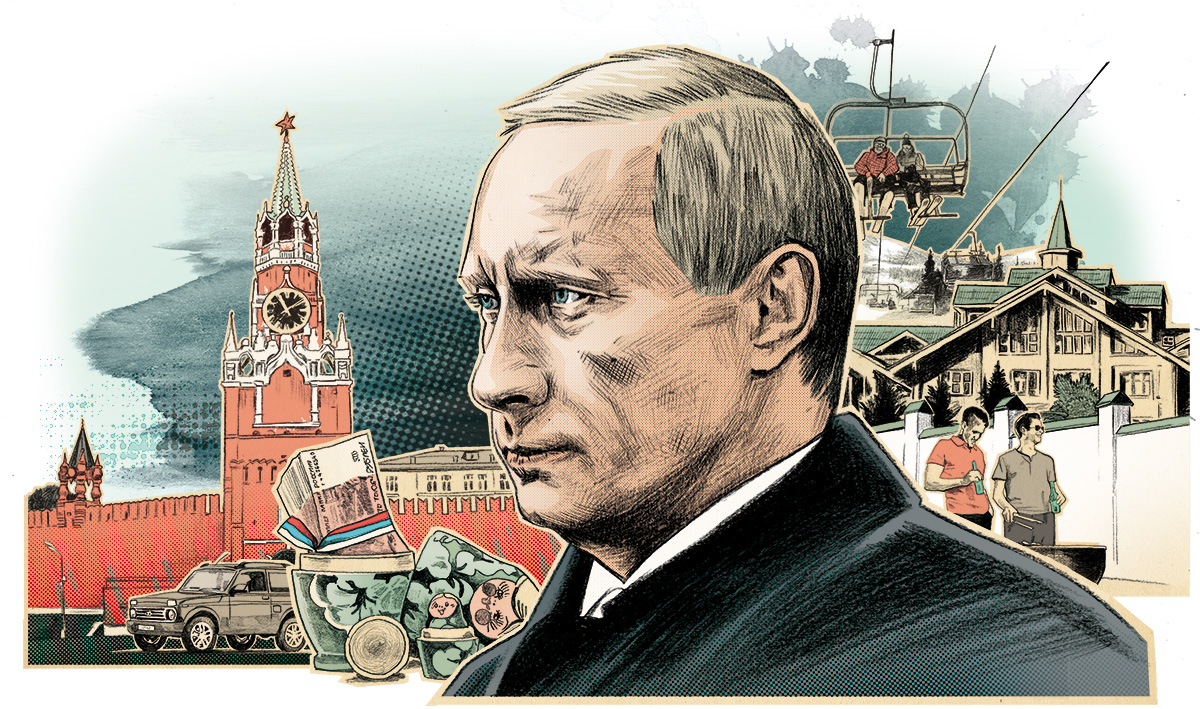 Putin's rich friends
The Russian musician Sergei Roldugin is a mystery. The cellist's biography is impressive: trained at the Leningrad conservatory, he later played first cello at Saint Petersburg's Mariinski Theater and performed in several countries, including Germany. He then was head of the Saint Petersburg Conservatory. Roldugin has received a number of accolades, among them third prize at the Prague Spring International Music Festival in 1980. Today, he is head of Music House in Saint Petersburg, the elite school for Russian soloists that he also founded.

At first glance, the artist leads a decent life. It wouldn't seem very exciting if it weren't for the exclusive concerts he has given at interesting people's houses. In an interview with the New York Times, Roldugin revealed that he had performed in the private quarters of none other than Vladimir Putin. It seems that the cellist and Putin are close friends. In fact, Roldugin may even be Putin's best friend.
But even if the cellist weren't linked to the Russian president, the information about Roldugin unveiled in the Panama Papers would still be stunning. Roldugin once said that he wasn't much of a businessman. Yet the documents mention him in relation to a number of companies. He is listed as owner, the documents contain a copy of his passport, and a number of documents appear to bear his signature.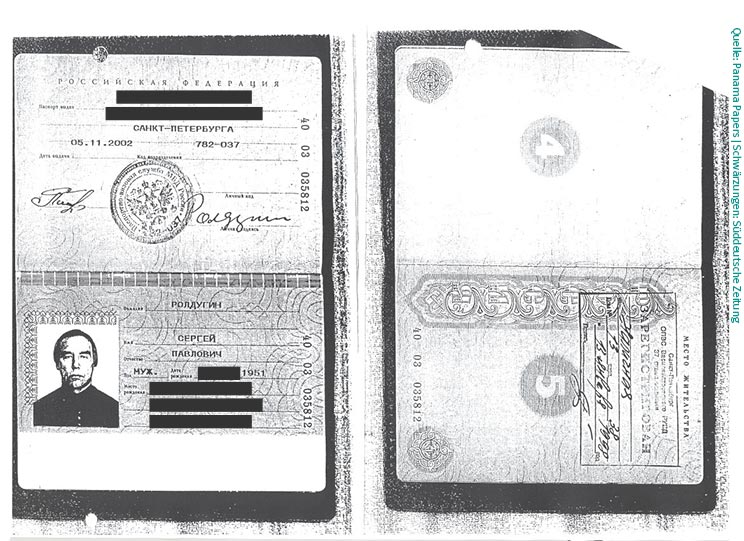 The data also shows that millions of US dollars apparently flowed through Roldugin's shell companies, which are at the center of a network of offshore companies. According to the Panama Papers, the companies in this network held stock options for some of Russia's biggest corporations. Loans worth hundreds of millions apparently flowed through them, and the companies appear to have been used for questionable business transactions. As the data shows, about USD 2 billion were moved via this complex offshore network within just a few years.
The artist, the head of state, the hidden money: The story behind these elements is possibly the most stunning one that can be found in the 2.6 terabytes of data leaked from Mossack Fonseca (Mossfon), the offshore provider. The idea that Putin may hold a secret fortune has been the subject of speculation for some years now. The Panama Papers now make it possible to trace the money trail closer to Putin than ever before.
The photograph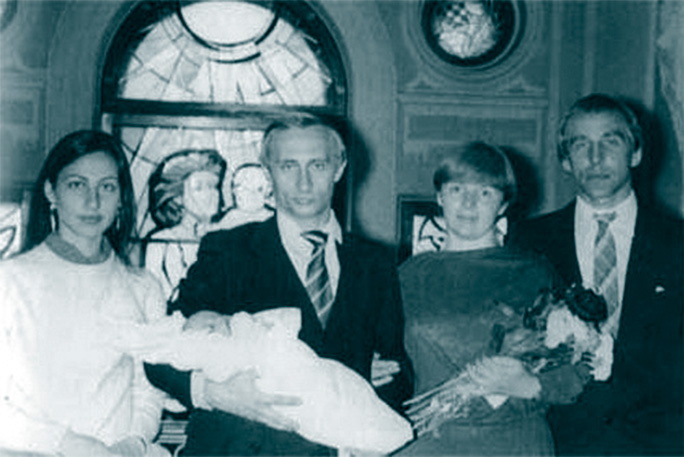 The black and white photo is slightly grainy, and perhaps this is what makes it somehow touching. The family photograph from 1985 shows a christening at a Saint Petersburg church. At the time, the city was still called Leningrad, and Mikhail Gorbachev was president of the Soviet Union, which Russia was a part of. Sergei Roldugin is wearing a black suit and striped tie. With his full head of hair and determined gaze, he's posing for the camera with two women and another man, who is holding a child. This haggard-looking man with a suspicious look in his eyes is Vladimir Putin. At the time, he was a little-known KGB officer. The picture was taken at his first daughter Maria's christening.
The musician Sergei Roldugin is her godfather. A close friend of Putin's, the two men have known each other for almost 40 years. According to Newsweek, he may even be Putin's "best friend".
The mysterious cellist is neither an oligarch nor a politician. Yet he is at the center of a breathtaking story that is hidden in the Panama Papers, the internal documents of Mossack Fonseca, a provider of offshore companies. The papers suggest that a large fortune flowed through a network of secret offshore companies and that the millions set aside in this way not only benefited Vladimir Putin's innermost circle, but also his own family. For instance, there is much to suggest that part of this money was used to purchase the ski resort where the lavish 2013 wedding of Putin's second daughter Katerina is said to have been celebrated.
Putin's inner circle
The story began in 1985. Shortly after his daughter Maria's christening, Vladimir Putin was sent to Dresden, East Germany as an agent for the KGB, the Soviet secret service. Katerina, his second daughter, was born there. It wasn't until the fall of the Soviet Union that Putin returned to Saint Petersburg. According to his Western biographers, he was devastated by the new Russia's apathy toward its loss of power in the world.
It was in Saint Petersburg that Putin's rise to power began. The KGB man became assistant to the mayor of Saint Petersburg, and then moved up to deputy mayor. He eventually became the head of FSB, the domestic secret service, and then prime minister. In 2000, Vladimir Putin became Russian president. Sixteen years later, he is more powerful than ever.
In January of this year, Adam Szubin, who is in charge of terrorism and financial investigations at the US Department of Finance, described Putin as "corrupt" in an interview with the BBC. Since Vladimir Putin began his ascent to power, similar accusations have been made. During Putin's time as deputy mayor of Saint Petersburg in the early 1990s, a municipal council board accused him of granting export licenses to his friends and family, without them upholding their part of the deal. And when he founded a company for an oligarch friend, fights with criminal gangs are said to have erupted. Apparently, these fights were so intense that Putin temporarily sent his daughters Maria and Katerina to Germany to ensure their security.
Later on, authorities in Germany and Liechtenstein investigated several employees of a real estate company whose advisory board Putin had sat on until 2000. As the German weekly Der Spiegel reported in 2003, German investigators suspected that profits from racketeering, human trafficking, and car smuggling had been wired to foreign accounts, foundations, and shell companies. By the time the scale of the alleged affair became apparent, Putin was already president. The last German investigation on the matter was closed in 2009 because of a statute of limitations.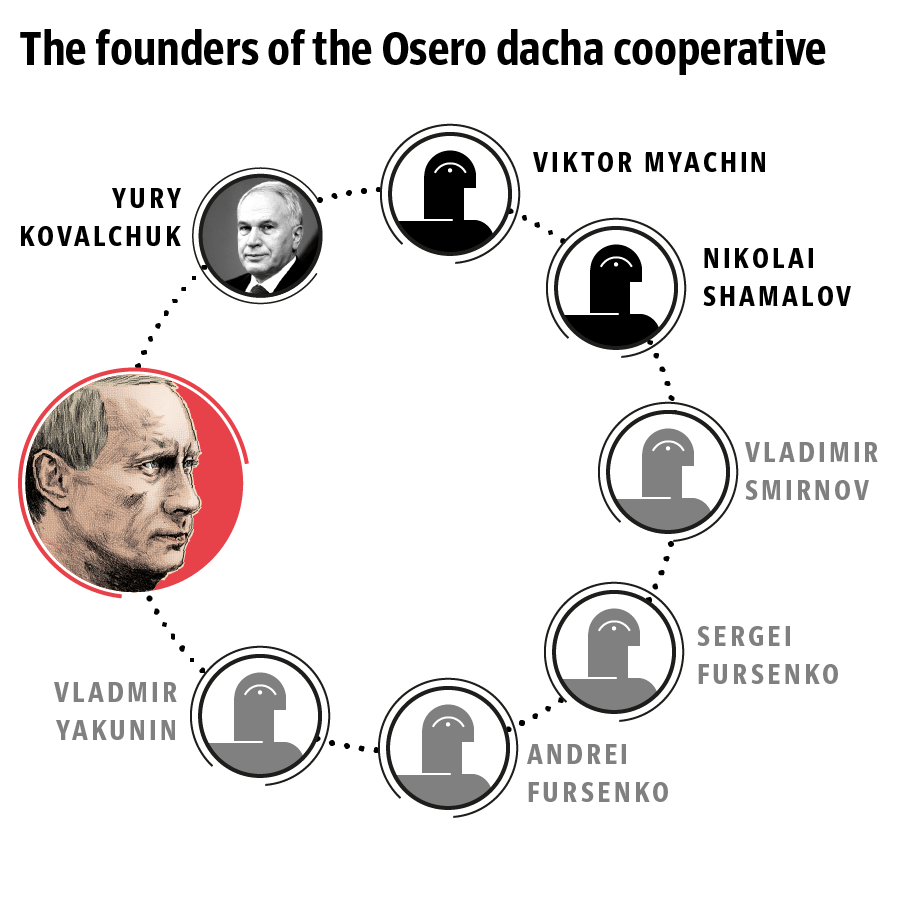 As Putin quickly rose to power in Russian politics, the personal wealth of a small group of previously rather unimportant people also grew. Among them are friends who served with him at the KGB, political companions from his time at the Saint Petersburg mayor's office, and distant relatives. In particular, the seven men with whom Putin founded the Dacha cooperative Osero, initially established in 1996 to build a holiday home complex on the outskirts of Saint Petersburg, have grown tremendously wealthy. At the time, the cooperative members shared a bank account. This period evidently created a strong bond between them. Today, most of the members of Osero are billionaires, and they form the most powerful clique in Russia.

The American economist and Nobel Prize laureate Paul Krugman has described Putin's Russia as an "an extreme version of crony capitalism". He labels the country "a kleptocracy in which loyalists get to skim off vast sums for their personal use." Vladislav Inozemtsev, an economist from Moscow, argues that Russia now has a neofeudal system, with Putin at the top and his friends below him, all of them having grown wealthier at the state's expense since the start of his long reign. The people of Russia are at the very bottom of this pyramid. In 2014, the American political scientist Karen Dawisha addressed the subject in her book, a detailed study simply entitled: "Putin's Kleptocracy". Internally, the US State Department has even referred to Russia as a "Mafia state", as the Wikileaks Cablegate of 2010 revealed.
The Panama Papers seem to support these descriptions of Russia. The documents contain information on the shell companies of many men who have risen in Russia's power elite with Putin. The billionaire Gennady Timchenko, for instance, became one of the world's biggest raw materials dealers simultaneously to Putin's rise. Timchenko finances the Yawara-Neva judo club, of which Putin is honorary president. The club was founded by Arkady Rotenberg. He and his brother Boris are also close friends of Putin. The two of them went from owning a few service stations in Saint Petersburg to forging a building and industrial empire worth billions. They appear in the Panama Papers in connection with several offshore companies in the British Virgin Islands and Cyprus. Other shell companies have been linked to Putin's former KGB colleagues, as well as to his press secretary's wife, one of his cousins, and several oligarchs close to him. And yet the Russian president has publicly criticized offshore companies as "unpatriotic" on several occasions since 2011.
The assets
There has been much speculation about Putin's personal wealth ever since he first entered the world of politics in Saint Petersburg. In 2014, Putin's official income declaration stated that his annual salary amounted to RUB 7.65 million, just under EUR 143,000 at the time.
However, journalists, historians, and economists who have examined Putin's assets largely agree that he is likely to be a multibillionaire by the time he leaves office. Their only difference of opinion lies in whether his total estimated wealth amounts to USD 40 billion, USD 70 billion, or even USD 200 billion, as Bill Browder has suggested.
The American used to run Hermitage Capital Management, an investment fund that was once considered Russia's largest foreign investor. Browder lived in Russia for ten years. In 2009, his lawyer Sergei Magnitsky died in a Moscow prison. It was then, at the very latest, that Browder became a harsh critic of Putin. In 2014, he wrote a book about his relationship with the Russian president and claimed that Putin was the world's wealthiest man. Browder stated to CNN that Putin was "the biggest oligarch of all".
There is meticulous research into this claim. Research conducted by the British Bureau of Investigative Journalism has shown that, until now, Putin has been photographed with watches worth more than EUR 200,000. Some anti-corruption activists have even spoken of a value exceeding EUR 600,000. At official events, he has been seen wearing a Patek Philippe Perpetual Calendar, which costs around EUR 60,000. It has not been disclosed whether the watches belong to the president, if the Kremlin made them available to him, or whether Putin borrowed them.
Assumptions about the composition of Putin's wealth are similar: as the theory goes, Putin owns shares of the biggest Russian companies through middlemen, and regularly has oligarchs and state banks transfer money to slush funds. Some time ago, it was reported that an estate was built close to Sochi on the Black Sea. Now commonly referred to as "Putin's Palace", the estate is a pretentious building with Italianate architecture. According to Reuters research, it was financed by Nikolai Schamalov, one of Putin's Dacha friends.
Until now, the Kremlin has denied that Putin owns the estate. However, when environmental activists attempted to access the property because they suspected that building laws had been violated during the palace's construction, they claimed they were stopped by officers of the Federal Guard Service of the Russian Federation (FSO), the government's security service.
The palace is mentioned in a 2012 report by the Russian activist Leonid Martynjuk and Boris Nemtsov, an opposition politician who was murdered in 2015. The report is called "The Life of a Galley Slave", a reference to a claim that Putin once made about working like a galley slave. Martynjuk and Nemstov's report concluded that in reality, Putin lives a life of luxury. It claimed that he owns dozens of villas, airplanes, and ships. According to the authors, the toilet in one of the airplanes apparently cost about half as much as Putin officially earns in a year.
And then there is the Olympia: referred to as the "diamond of the Kremlin's fleet", the yacht is decked out in exclusive mahogany. It also features a whirlpool and a marble bathroom. According to media reports, the yacht was a gift and gesture of loyalty from a group of oligarchs linked to Roman Abramovich. Abramovich has consistently denied this. The Russian newspaper Novaya Gazeta has reported that FSO also guards the Olympia.
Vladimir Putin regularly dismisses reports about his wealth as foolish gossip. He did not respond to a detailed request for comment about the Panama Papers made by Süddeutsche Zeitung and the International Consortium of Journalists (ICIJ). However, last Monday, shortly after the questions were sent, Putin's spokesperson Dmitry Peskov spoke to Russian journalists, stating that the Kremlin had received "interrogation-style requests". These, Peskov stated, were part of an "information attack" on the Russian president and his family. Allegations were going to be made about offshore companies – companies that Putin had never personally seen. Peskov suspected that not only journalists were behind this "attack", but also "representatives of special interests and other organizations". Should "fabricated facts" be published, libel charges and trials could not be ruled out.
Such reactions are one of the reasons why many Russian media outlets avoid the subject. Russian journalists are aware that writing about Putin's money could get them into trouble, with unpleasant surprises ranging from tax audits to break-ins, for example. Luke Harding, a journalist at the Guardian who also did research for this story, attributes his 2011 expulsion from Russia to his activities on the subject.
If Putin were to have accumulated such incredible wealth, it would not have his name on it. Officially, the money will belong to people outside the limelight, inconspicuous middlemen who enjoy the Russian president's unconditional trust. Sergei Roldugin could fit the profile. Financial experts and investigators have observed this type of pattern with high-ranking politicians for a long time. In the Panama Papers, too, Putin's name is never mentioned in relation with the companies.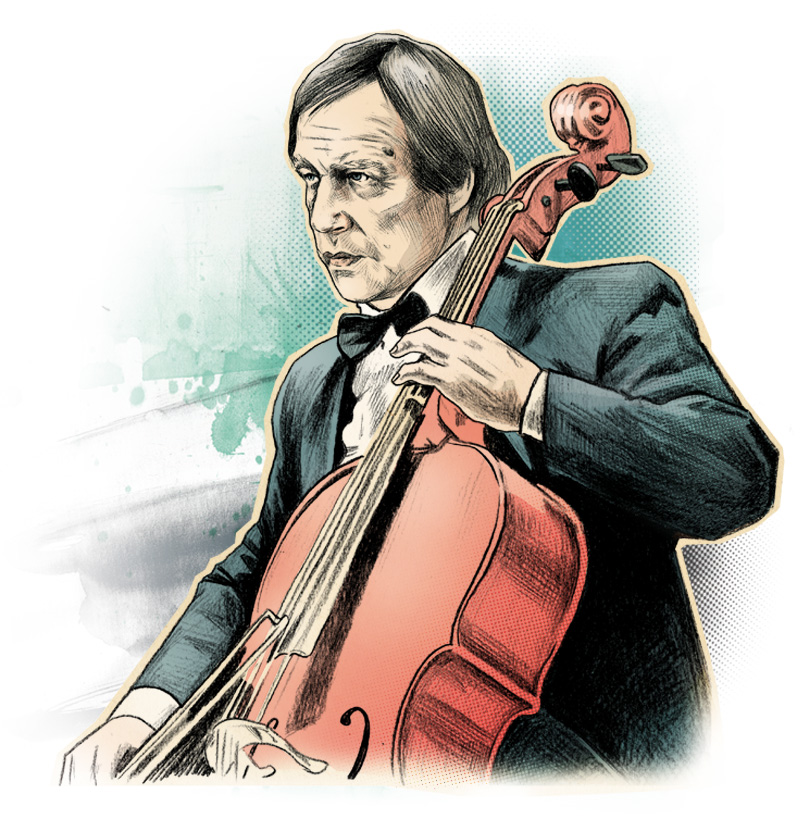 The cellist
According to numerous books, Vladimir Putin and Sergei Roldugin met sometime between the mid- and late 1970s. In a book of interviews published in 2000, Roldugin stated that Putin, who was a year his junior, was like a brother to him. The pair spent many a night hitting the streets of St. Petersburg, where they sang and got into brawls with other young people. Brenda Lange und Charles J. Shields, both of whom are Putin biographers, have said that Roldugin introduced Putin to Luydmilla, who would go on to become his wife, and from whom he is now divorced. As the story goes, an Aeroflot stewardess that Roldugin knew brought along a blonde colleague, and Roldugin put her in a car with Volodya – a pet name for Vladimir. Putin married Luydmilla in 1983. When Maria was born two years later, Roldugin took Putin's wife and daughter home from the hospital.
The friendship between the two men seems to have lasted to this day. Roldugin appears to be the only person who is allowed to mention the Russian president's private affairs in the media. Not only did he reveal Putin's back pain in an interview – despite the fact the Russian president likes to present himself as a virile adventurer – Roldugin has even gone so far as to reveal that Putin is now a grandfather. Until now, this has not been officially confirmed.
If anyone enjoys Putin's trust, it appears to be Roldugin. But is this trust so great that he would even hide a potential fortune behind the musician's inconspicuous résumé?
As recently as September 2014, Sergei Roldugin told the New York Times that he was certainly "no businessman", and that he didn't "have millions". At the very least, the latter statement appears to have been untrue, as the Panama Papers suggest.
According to the data, in May 2014 Sergei Roldugin opened an account at Switzerland's Gazprombank on behalf of one of his offshore companies. The bank required a form to be filled out indicating how much money the new client owned. The answer was more than 10 million Swiss Francs, in addition to an annual income of more than one million Swiss Francs, made up mostly of dividends, interest, and loans.
An anti-money laundering questionnaire was also part of the paperwork. It asked whether Roldugin had "a relationship with a VIP", or with a "politically exposed person". Banks are obliged by now to ask these questions as part of standard procedure. This is because, as experience from past decades has shown, corrupt politicians don't generally hold their sensitive accounts in their own names, but rather in the names of trusted family members and friends.
Roldugin returned the questionnaire with two "no" boxes ticked. The man who is possibly Vladimir Putin's best friend, and who is godfather to the Russian president's first-born daughter, claimed that he had no relationship with a politically exposed person.

The network
Several Panama Papers documents show that Mossack Fonseca listed Sergei Roldugin as the owner or co-owner of the following three shell companies:
- Sonnette Overseas Inc., founded in the British Virgin Islands in 2007;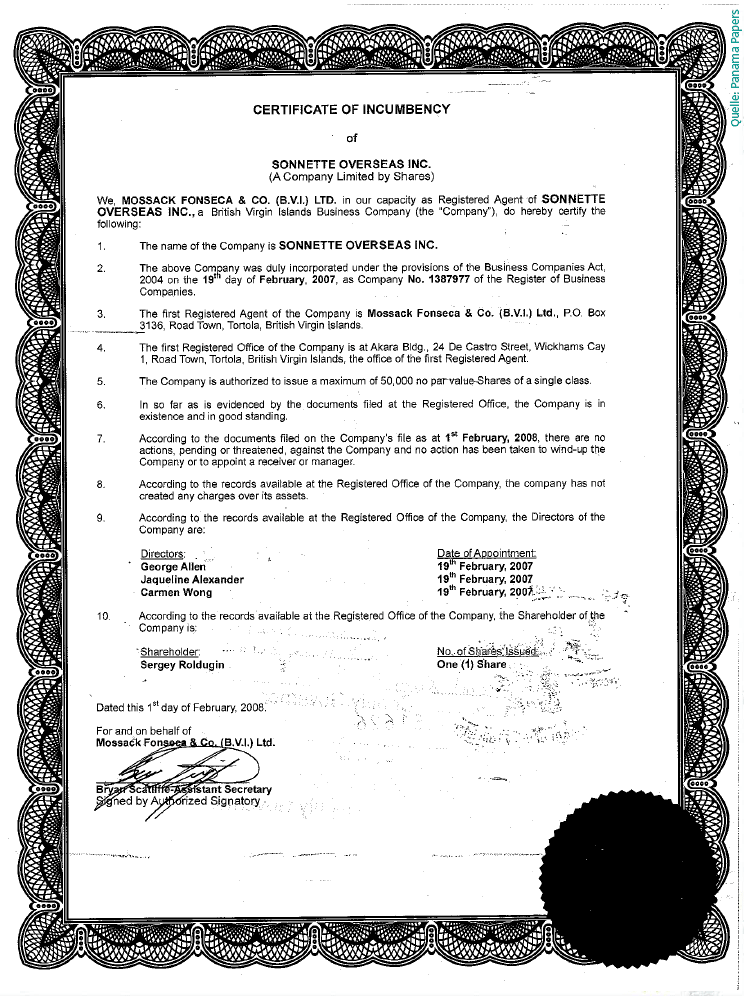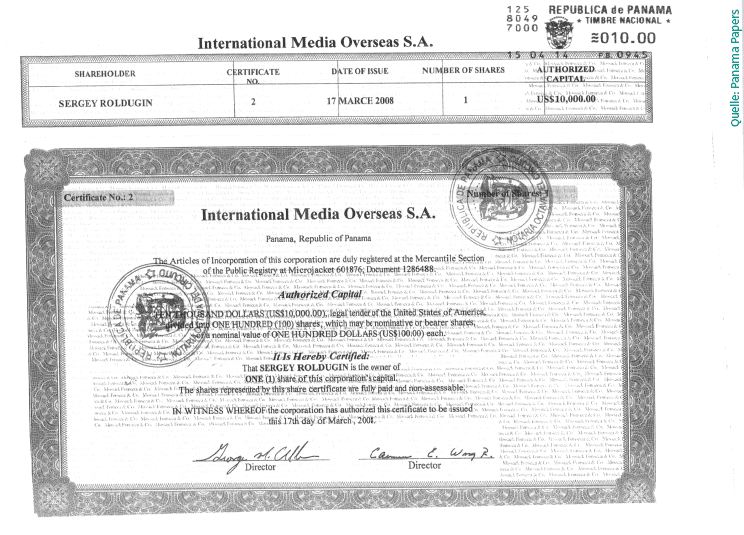 - and Raytar Limited, a company set up in the British Virgin Islands in 2012.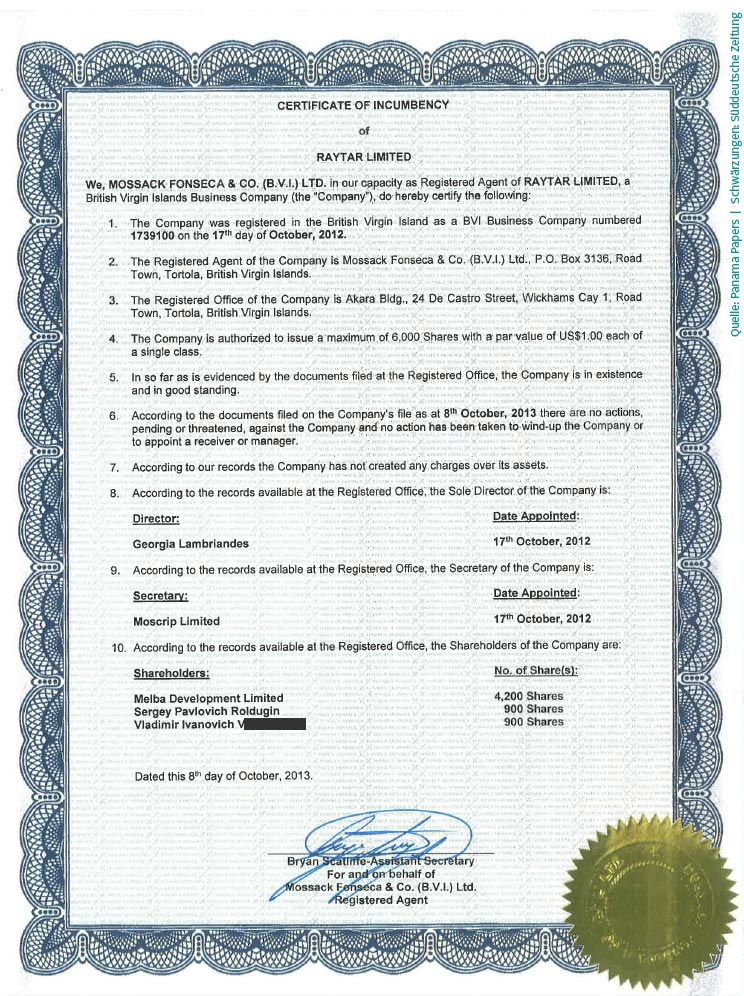 In response to the Guardian's request for comment, Mossack Fonseca stated they were unaware that Roldugin owned Sonnette Overseas and International Media Overseas.

The documents do not reveal much about Raytar Limited. However, in the documents leaked to Süddeutsche Zeitung there is data about International Media Overseas and Sonnette Overseas. It includes dozens of emails as well as contracts, documents on share transactions, and various documents that appear to bear Roldugin's signature.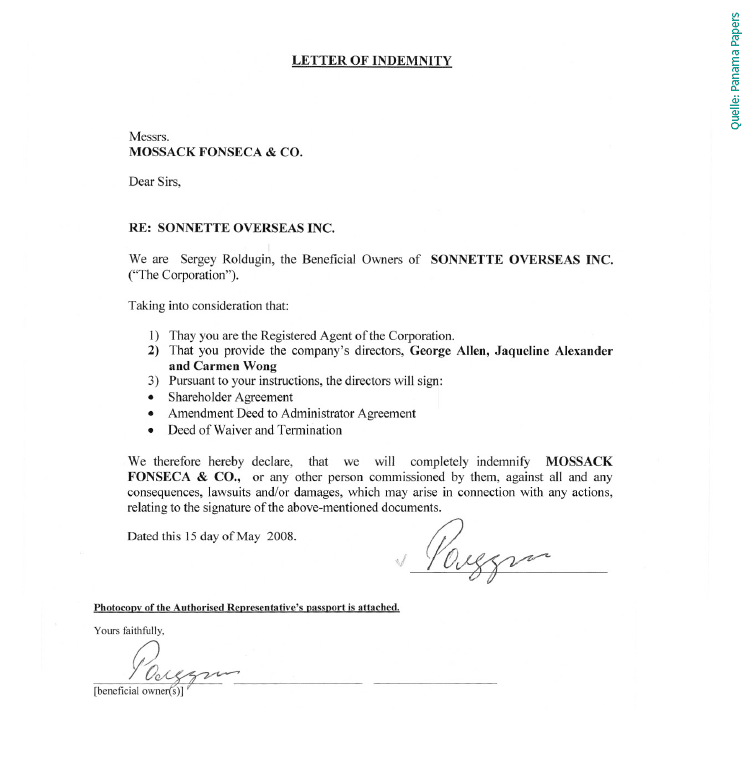 For instance, the data contains an exemption from liability from May 2008 relating to Roldugin's company Sonnette Overseas, as well as a document granting power of attorney to two female Mossfon employees from March 2011. Even a copy of the musician's passport, which was issued in Saint Petersburg on November 5, 2002, is included in the data.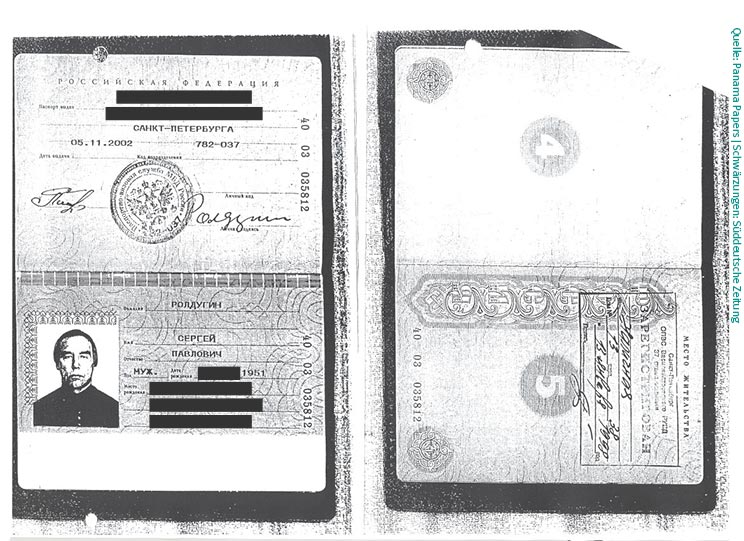 Last week, Russian journalists involved in this research project approached Roldugin after a concert at Moscow's Tchaikovsky Conservatory and asked him to comment on the matter. He responded that he was involved in such business dealings before Perestroika, but could barely remember, and he asked the journalists to send him written questions. If his statement were true, his activities would have taken place prior to 1986, but the companies in the Panama Papers were established more than 20 years later. Roldugin has not responded to any of the questions in SZ's written request for comment.
According to the Panama Papers, Roldugin's companies International Media Overseas and Sonnette Overseas have close links to two other shell companies registered in the British Virgin Islands: Sandalwood Continental Ltd. and Sunbarn Limited. For a while, Roldugin's Sonnette Overseas and Sunbarn Limited had the same owner, a businessman from Saint Petersburg. In turn, the Panama Papers reveal that the owner of Sandalwood Continental was granted power of attorney, which could have authorized the owner to do business and sign papers on Roldugin's behalf. This man was also a Saint Petersburg businessman. A form dated July 2009 indicated that this man worked for law enforcement authorities until 2003.
These four offshore companies could be referred to as the Roldugin network.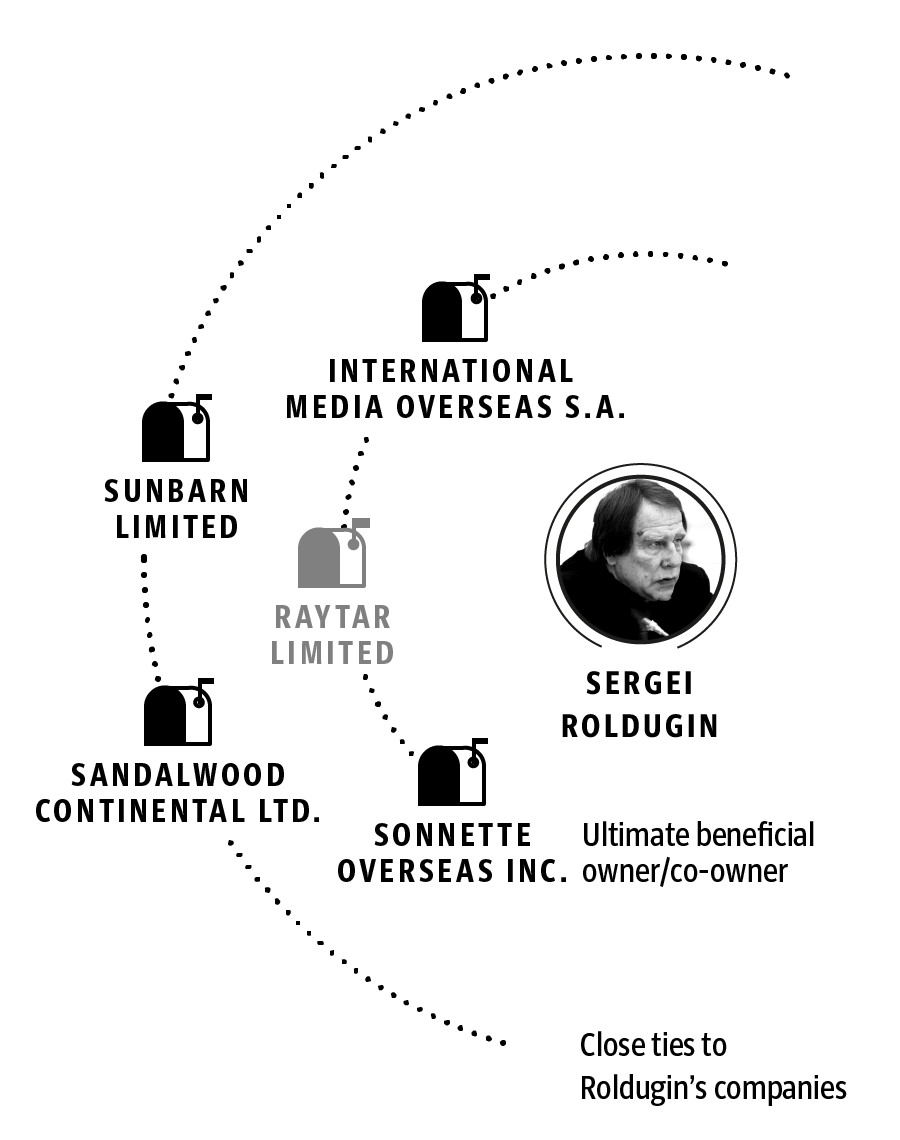 According to documents from the Panama Papers, dividends from another shell company were apparently wired to the Gazprombank account of Roldugin's International Media Overseas. The latter holds shares of a large Russian media company called Video International. When the account was opened, its holder estimated an initial deposit of RUB 268.4 million – the equivalent of about EUR 5.6 million – with more to come later. Video International declined to comment. This company was founded in the 1990s by Mikhail Lesin, who was Putin's media advisor from 2004 to 2009. He is also listed as the owner of a shell company that appears in the Panama Papers, which was founded in the British Virgin Islands. On November 5, 2015, Lesin was found dead in a Washington hotel room.
The leaked data also shows that the companies in the network traded in purchase options for other companies. These, in turn, hold shares of the Russian company Avtovaz, the manufacturer of Lada vehicles, and of the Russian truck and tank maker Kamaz. According to the documents, a complex company structure enabled Sergei Roldugin's company Sonnette Overseas to weigh in on important decisions at Kamaz without holding shares in the company.
Kamaz is an almost indispensable part of Russia's military arsenal. Its trucks were often used in the Urkraine war. In fact, it was white Kamaz trucks that transported supposed aid supplies to the Eastern Ukraine. Kamaz trucks have also been sighted in Syria, where Russian ground troops have supported dictator Bashar al-Assad.

Journalists and analysts critical of Putin believe that the president regularly has shares of Russia's largest companies issued to him. In 2007, the controversial Russian political analyst Stanislav Belkovsky claimed that Putin controlled 37 percent of the Surgutneftegaz oil and gas company and 4.5 percent of Gazprom. Neither of these figures has been verified.
Leonid Bershidsky, founding editor-in-chief of the Russian business daily Vedomosti, wrote in a column for the Bloomberg news agency that Putin "has the whole country at his beck and call". In turn, Russia expert Karen Dawisha has argued that Putin just takes whatever he wants.
"Putin's bank"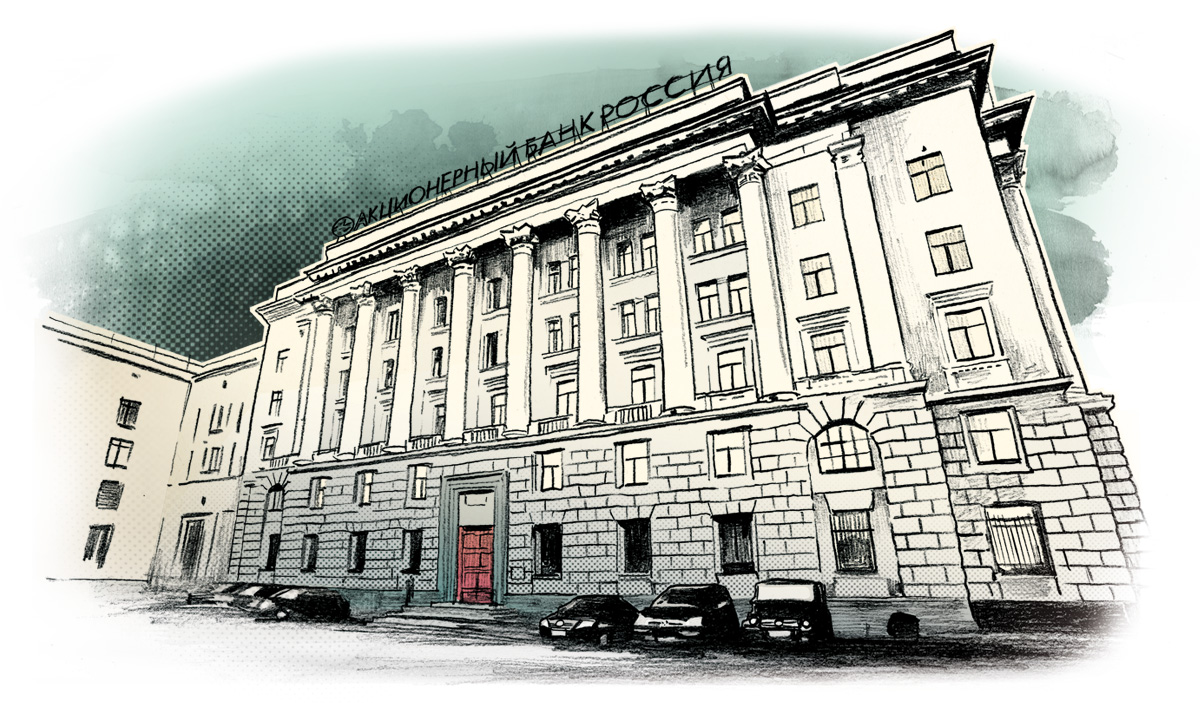 With the possible exception of Raytar Limited, the Panama Papers reveal that all the companies in the Roldugin network were managed by Bank Rossiya employees in Saint Petersburg. US experts consider it to be "Putin's bank", the financial institution that serves his innermost circle. For this reason, the United States sanctioned the bank following the 2014 annexation of Crimea. Bank Rossiya is headquartered in a yellow Soviet-style building close to the Neva River on Rastrelli Plaza, one of Saint Petersburg's most beautiful squares. The bank was founded in 1990 with Communist Party money, right around the time that Vladimir Putin returned from East Germany.
Several of Putin's closest associates hold or have held shares of the bank. Yury Kovalchuk and Nikolai Shamalov, two of the founding members of the Dacha cooperative Osero, apparently own almost half of Bank Rossiya's shares. At least until recently, Sergei Roldugin also held a more than three percent share. While this was made public in 2010, it hardly attracted any attention. As the Panama Papers show for the first time, one company in the Roldugin network – Sandalwood – also held shares of the bank for a certain period. At the same time, the bank is thought to be a hub for major shareholdings. For instance, it was majority shareholder of the second-largest Russian insurer Sogaz, which in turn controls the Gazprom Media Group. Among others, the latter owns the television broadcasters NTW and TNT, as well as the Echo of Moscow radio station.
When the bank was hit by sanctions, Putin promptly reacted: he ordered the Central Bank of Russia to support Bank Rossiya, and he demonstratively opened a ruble account at the bank himself.
SZ's research, which spanned several months, reveals that two Bank Rossiya employees played a particular role. In some instances, they were authorized to sign papers for Roldugin's company International Media Overseas. According to an internal email, this was supposedly because Sergei Roldugin could not always be reached – not surprising for a musician frequently on tour. Starting in 2014, Bank Rossiya employees sent some of the emails concerning the Roldugin network of companies from fake addresses. They may have done this to conceal that the bankers worked for a sanctioned company. Emails from Roldugin himself could not be found in the data.
This is how Bank Rossiya apparently has power over the companies of the Roldugin network. However, the real decisions are likely made elsewhere. Perhaps even at the Kremlin? At the time of publication, Bank Rossiya had not responded to a request for comment on this matter.
The law firm
Employees at the Saint Petersburg bank use a Swiss law firm as an inconspicuous first point of contact with Mossack Fonseca. Even Bank Rossiya seems to realize that a Russian bank with a questionable reputation abroad may not be a good partner for international business activities. All business transactions would likely come under close scrutiny. However, a Swiss law firm headquartered close to Zurich's Paradeplatz, home to major banks, would attract less suspicion. And it seems like the ideal partner: it is well known enough to be taken seriously on the global stage, and small enough to avoid attracting attention.
The law firm is known in Zurich banking circles as the firm that serves a number of wealthy Russians. Not only are some of these clients rich, they are also very powerful. Documents from a previous leak showed that Alexei Golubovich, an oligarch and former top executive at the Yukos oil company, had business dealings with the law firm.
One of the law firm's partners, who did not respond to a request for comment, apparently travels to Russia on a regular basis. It is said that he enjoys telling tales of his wild boar hunting, and that he brings expensive vodka back home with him to Switzerland. It has also been said that he is especially proud of his good contacts in Moscow. Internally, he has apparently claimed to have close ties to secret service people, emphasizing that these ties go all the way up to Vladimir Putin.
The tricks
The purpose of the Roldugin network appears to go beyond holding shares and stocks. Its goal, so it seems, is to use offshore companies to set aside millions. To achieve this, they must be able to provide inconspicuous reasons for money transactions. According to the Panama Papers, there are several tricks in order to do this.
Trick 1: Options backdating
An example from the Mossfon documents: on June 5, 2011, a Bank Rossiya employee asked Mossack Fonseca to have the directors of two companies sign off on a number of share transactions. In the world of offshore companies, this is a common procedure. In this case, however, the supposed share transactions carried a date five months earlier, in January 2011. The sham directors were thus required to approve retroactively.
The trick seems to work like this: the companies concerned retroactively looked for dates on which the sale and the following repurchase would have generated a profit due to the stock's value decreasing. According to the documents, the stocks were never actually traded, but the books make it look as though a profit was made.
This pattern appears about a dozen times in the data, with two companies profiting from this type of operation. Within three years, Sandalwood and International Media Overseas earned millions of dollars. SZ research has found that Bank Rossiya employees pulled the strings from behind the scenes. The bank declined to comment on the matter.
Trick 2: Fake damages
One of the offshore companies in the network agrees on a share transaction with a second company that is clearly in the know. However, the latter company "fails" to make these shares available, and must thus pay "damages". One example from the Panama Papers shows that a shell company in Belize made such a payment to Sandalwood to the tune of USD 800,000. A reference such as "damages" gives the bank transfer a seemingly clear and inconspicuous reason for payment. Without it, the banks involved in such transactions may become suspicious. Here, too, Bank Rossiya did not respond to a request for comment.
Trick 3: Bogus consulting fees
According to Mossfon data, in 2009 and 2010 a shell company from Roldugin's network received a total of USD 30 million for "consulting services". 15 million came from an offshore company called
Jabiru Consultants
, and another 15 million from an offshore company called Pearl Kite. The two offshore companies, so the claim goes, received consulting services regarding "investment opportunities in the Russian Federation" – from a shell company with apparently no employees. Money laundering experts know the term "consulting fees" as an easy way of shifting money. The Roldugin network company declined to comment.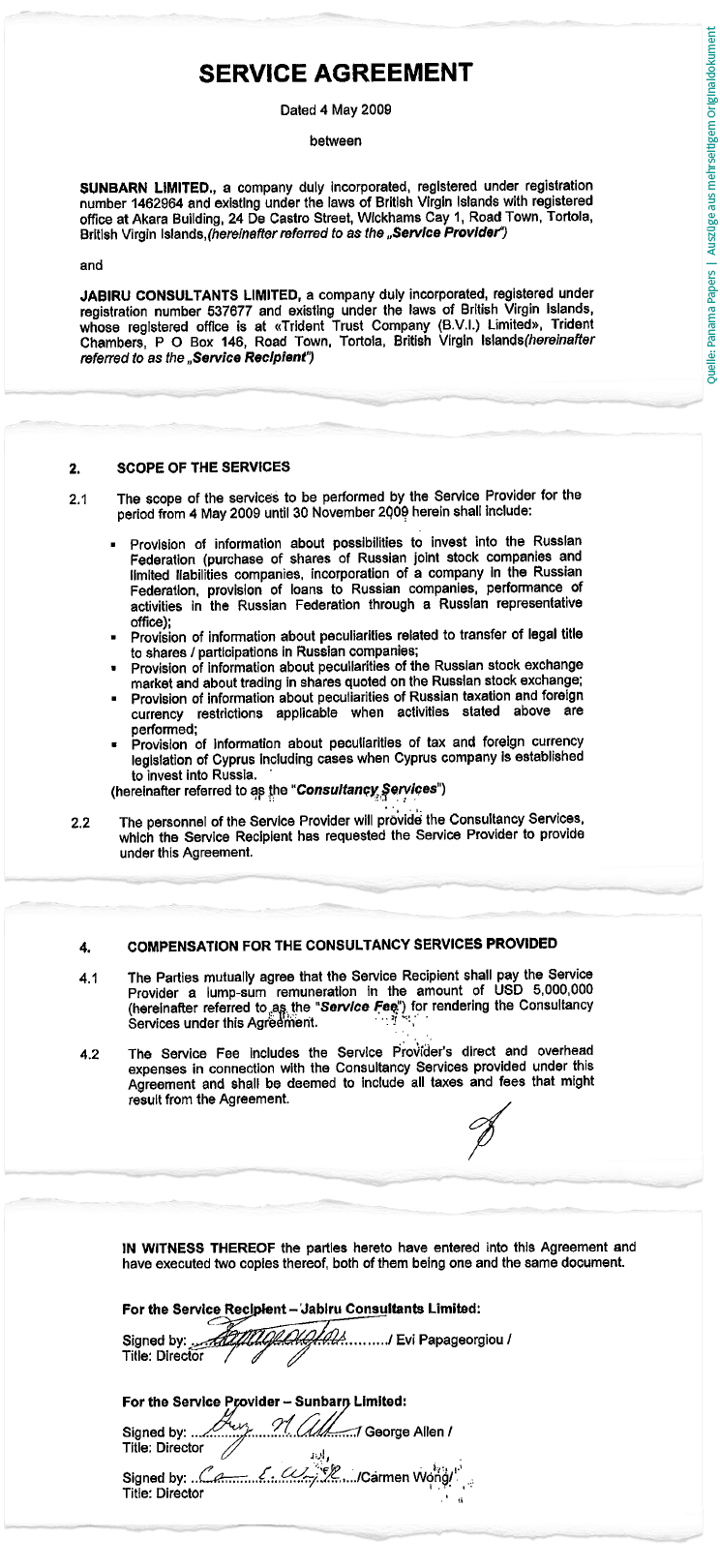 Trick 4: High interest for small loans
Roldugin's company International Media Overseas concluded an especially lucrative deal in February 2011, when it acquired all the rights to a USD 200 million loan at a price of just USD 1. According to the contract found in the Mossfon documents, the loan generated interest payments of USD 21,917 per day, which adds up to a sum of USD 8 million per year.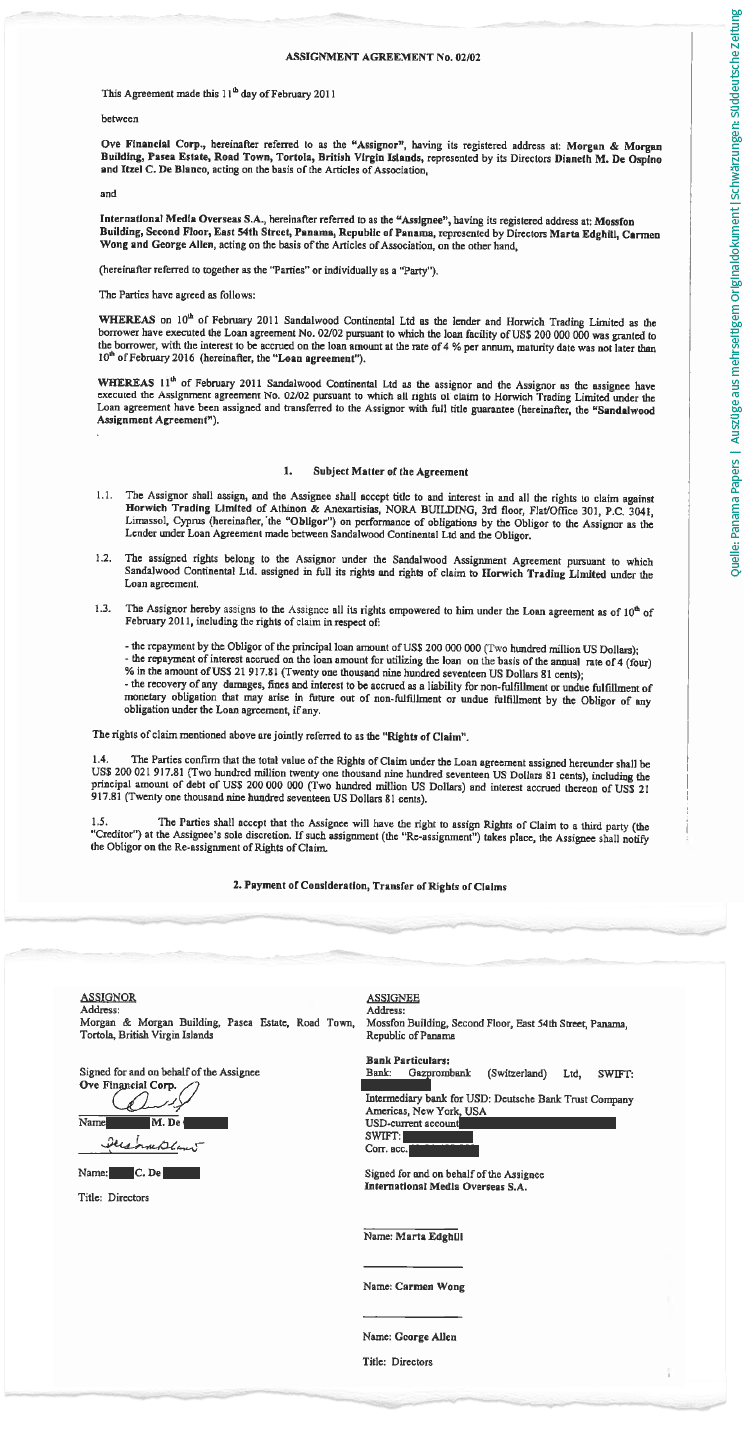 Mark Pieth, the Swiss money laundering expert who analyzed the contract, considers this a known pattern: "A group close to the former Russian telecommunications minister is still strongly suspected of having laundered hundreds of millions of dollars specifically with such loan agreements. This minister, too, was a friend of Putin's. To me, it looks like the same pattern." Roldugin did not respond to an SZ request for comment on the matter.
Trick 5: Loans that were apparently never repaid
The most spectacular trick may well be when a bank grants a shell company an extremely generous line of credit. Lines of credit are similar to credit card limits: users can easily withdraw money until they reach the credit limit. In Sandalwood's case, a great deal of money was involved. The Panama Papers show that, between 2009 and 2012, the company was issued credit lines worth USD 800 million. According to the data, at least a portion of this money was withdrawn.
The money always came from the Russian Commercial Bank (RCB) in Cyprus, at the time a 100-percent subsidiary of VTB Bank, which belongs in large part to the Russian state and is said to have links to the Russian secret service. The Panama Papers do not reveal where these huge sums of money at RCB came from. In response to a request for comment, the bank stated that it could not comment on its customers or transactions, but that the bank observed the law.
In the course of this research, an industry insider known to SZ but speaking on the condition of anonymity told the Guardian that Putin and his innermost circle used the RCB as a personal credit card of sorts, at least during the first decade of the new millennium. However, the bank has denied this claim. And yet the source maintains that "whenever one of Putin's chosen few or their wives needed money, whether for a shopping trip, a yacht, or some kind of investment, the RCB always made funds available, no questions asked." The source also states that "the RCB was the power elite's self-service shop." This could explain why the Russian government vehemently opposed the "haircut" during the euro crisis in 2013. The policy was to cut all Cypriot bank deposits, including RCB's. In an interview, the head of Cyprus's centrist party stated: "The topmost Russian leadership told us, in no uncertain terms, that if we touched the RCB, the reaction would be like nothing we had ever seen before." Ultimately, the RCB was excluded from the haircut to a large extent.
This is not the only peculiarity that the Panama Papers reveal with regard to loans. The documents also suggest that companies in the Roldugin network received loans with unusual conditions. In some instances, the loans were practically interest-free. In others, there was no clear evidence of repayment, and some loans were granted without any collateral agreements. Here, experts see strong indications that these transactions were more likely gifts than loans. "It would appear that tax evasion, fraud and/or some other predicate act is underlying these transactions for purposes of money laundering," says David Weber. The financial expert from the University of Maryland analyzed a number of loan agreements from the leaked data over the course of this research.
The amount of money RCB made available to its customers did not go unnoticed at Mossack Fonseca. At the end of September 2009, a Mossfon lawyer wrote an email to the law firm's partners, Jürgen Mossack, Ramon Fonseca, and Christoph Zollinger about an agreement that Mossfon sham directors were expected to sign off on. RCB in Cyprus was to issue Sandalwood a credit line worth USD 103 million, apparently without any kind of collateral, as the loan agreement stated.
From: Jürgen Mossack
"I think this is delicate",
Jürgen Mossack answered in an email found in the Panama Papers. The money, he wrote, appeared to have "questionable origins and just as questionable a purpose". And yet Mossfon allowed the directors to sign the papers nonetheless once the law firm had secured an exemption of liability to prevent any potential financial harm to Mossack Fonseca. In response to the Guardian's request for comment, Mossfon stated that they had "relied on the local provider in a regulated European territory."
The hidden system
Questionable credit lines worth millions, options backdating, bogus consulting fees, and fake damages all seem to be part of a hidden system, one that was apparently created to make huge sums of money disappear quickly into offshore companies.
As early as 2013, Sergei Ignatyev, the head of the Russian central bank at the time, publicly declared that almost USD 50 billion – nearly 2.5 percent of Russia's national income – had been moved out of the country in 2012 alone. While Ignatyev claimed that most of the money had been taken by a single group of people, he didn't mention any names.
International money-laundering experts with whom SZ confidentially discussed the operations within the Roldugin network are certain that whoever has taken money out of Russia on such a scale either isn't afraid of dying or is protected by the nation's most powerful. It is highly unlikely that the Russian government was unaware of these transactions. In Russia, an authority called Rosfinmonitoring is responsible for detecting money laundering operations and other suspicious transactions. In contrast to comparable bodies in Western Europe, the organization resembles a secret service rather than a regular police unit. Apparently, Russian money laundering investigators can read emails, wiretap telephone calls, and access anyone's bank information.
The money-laundering experts that SZ consulted conclude that if investigators have not prevented billions from leaving the country, it isn't because they are unaware of the situation, but rather because they have deliberately turned a blind eye to it.
According to the Panama Papers, the money of Russia's oligarchs apparently also flowed through the network of companies that revolves around Putin's friend Sergei Roldugin. In 2013 alone, several shell companies linked to the brothers Boris and Arkady Rotenberg granted loans worth about USD 200 million to an offshore company in Roldugin's network. The documents do not show whether these loans were ever repaid. Shortly before the loan was granted, Arkady Rotenberg's company had been awarded the tender for the South Stream pipeline project, worth billions. However, the project was postponed in the course of the crisis in Ukraine. The Rotenbergs did not respond to SZ's request for comment.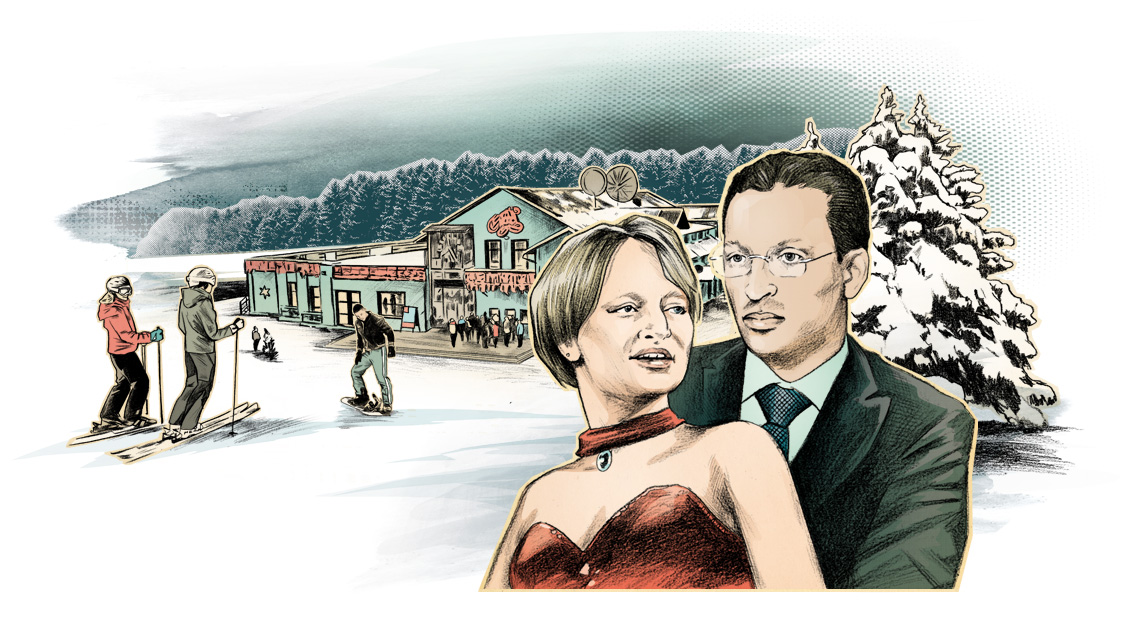 The secret wedding
Comparing the clues from the Panama data with reported events reveals valuable insights. For instance, in February 2013 a magnificent wedding was celebrated at the Igora ski resort, about an hour north of Saint Petersburg. It wasn't until the end of 2015 that Reuters reported the event – to this day the Kremlin has not confirmed it took place. According to the report, the bride and groom arrived in a carriage drawn by white horses. Guests were not permitted to take pictures and cell phones had to be handed in. "There were guards on every corner; nobody could get close to the party," an employee of the Igora resort told a Reuters journalist. Once inside the security perimeter, guests enjoyed a replica Russian village with actors, as well as folk dancing, figure skating, and a laser show. Guests also received scarves embroidered with "K&K", the first name initials of the bride and groom: Katerina, as in Katerina Tikhonova, the name Vladimir Putin's younger daughter apparently goes by. According to media reports, she carries her grandmother's surname. The other K stands for Kirill Shamalov. The groom is the son of Nikolai Schamalov, Putin's friend from the Osero cooperative, who allegedly helped finance "Putin's palace".
Nineteen years after the Dacha cooperative was founded, Nikolai Schamalov and Vladimir Putin, co-owners of Bank Rossiya, are now family. Reuters has reported that, as a wedding gift of sorts, Putin's new son-in-law Kirill is said to have gained shareholdings worth billions with the help of his family's circle of friends. He did not respond to SZ's request for comment.

Years of planning went into the secret celebration. For instance, the Igora ski resort property was purchased for the wedding. According to the land registry, the buyer was a Russian company called Ozon LLC. This company initially belonged in part to a mysterious Cypriot offshore company. Via another intermediary company, a 25 percent share of Ozon belonged to Yuri Kovalchuk and his son. Kovalchuk is an old friend of Putin's. The United States government calls him Putin's "cashier". He is definitely a member of the Osero cooperative. Kovalchuk's lawyer stated that his client did not wish to comment on such matters.
According to the Mossfon documents, Ozon LLC – the Russian company that owned the ski resort by then – in 2009 received a loan of USD 5 million from Sandalwood, one of the Roldugin network's companies. About two years later, almost the same amount was wired again as a loan. Ozon LLC then officially purchased the Igora property one year before the wedding. Sandalwood, its creditor, was dissolved in 2013.
The father of the bride was already familiar with the region. Vladimir Putin was there when the Igora ski resort was founded in 2006. And locals refer to a large estate situated in the direct vicinity of the resort as "the president's villa". They say he is often there.
This is a tale that begins with a christening and ends with a wedding - yet again this story shows the makings of a family affair: the resort where Putin's daughter got married, was owned in part by a friend from the Russian president's Osera cooperative days. The owning offshore company appears to have financed the resort with millions that came from an offshore company from the Roldugin network. The entire transaction was orchestrated by Bank Rossiya, which belongs to members of Putin's inner circle. And by the looks of it, the middleman for this network was Putin's best friend, the Bank Rossiya co-owner Sergei Roldugin, godfather to Putin's other daughter.
Best friends are a wonderful thing.
Contributors: Roman Anin, Jake Bernstein, Luke Harding, Olesya Shmagun, Roman Shleynov, David Thompson, Oliver Zihlmann
Correction: An earlier version of this article incorrectly reported that the Kamaz trucks transported supposed aid supplies to the Krim. In fact, the trucks transported supposed aid supplies to the Eastern Ukraine.