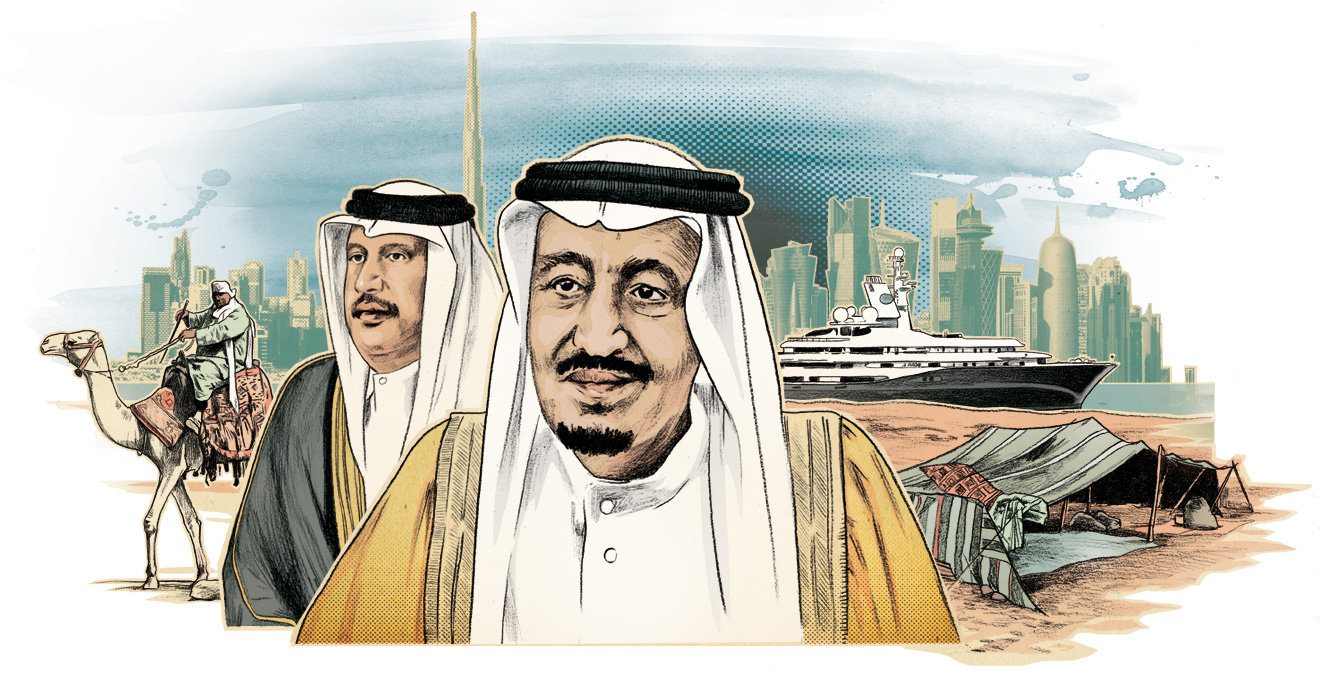 The Kings of the Offshore Business
The Panama Papers may be the largest data leak regarding offshore companies, but it is not the first. Offshore Leaks and Swiss Leaks were the first in this case. The nature of these revelations was different. Yet they all have had one common denominator: namely that numerous members of Middle Eastern royal families were mentioned in the previously secret data. Despite the fact that these royal families are not only immensely wealthy, virtually omnipotent and mostly exempted from paying taxes, they are, nonetheless, apparently among the most loyal customers of the industry of offshore accounts. But why?
Offshore Leaks data revealed, among others, the name of Kuwait's former Vice Prime Minister's son. Swiss Leaks mentions as beneficiaries of Swiss bank accounts the former Saudi Arabian King's half-brother and Qatar's former Minister of the Interior. But the Panama Papers now reveal no less than 73 members of reigning Middle Eastern royal families, including the incumbent king of Saudi Arabia. Middle Eastern royals seem to love going offshore.
Süddeutsche Zeitung (SZ) has now, in conjunction with Arab journalists, who will remain anonymous for their own safety, systematically analysed the data from the Panama Papers, Offshore-Leaks, and Swiss-Leaks databases for any mention of members of the ruling Middle Eastern royal families. This resulting database demonstrates how intensively the ruling houses utilize opaque offshore charitable trusts, secret Swiss bank accounts and interwoven, complex networks of shell companies.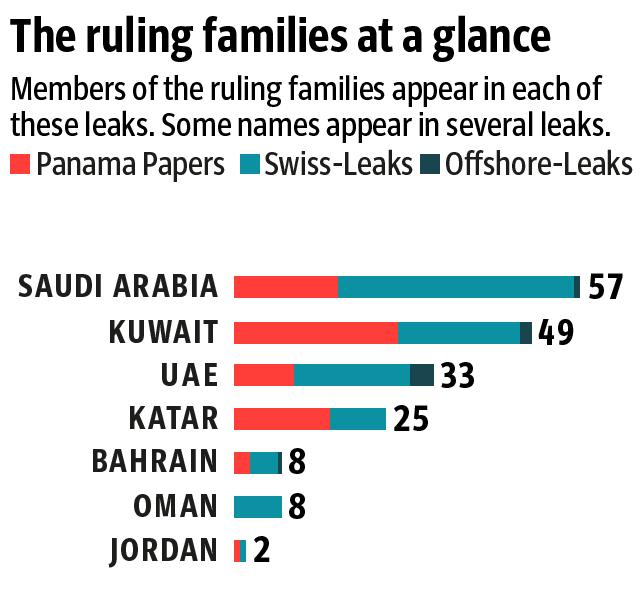 "Lines between politics and personal economic interests get blurred in this part of the world and this creates an environment for corruption", says Robert Palmer of the NGO "Global Witness. It often remains quite unclear which business deals, brokered by a member of a Middle Eastern royal family, are of a private or official nature, and no laws of disclosure are, as such, in place to force them to reveal these. Of the 73 offshore royals to be found on 2.6 terrabytes of information that was provided to Süddeutsche Zeitung by an anonymous source, 27 are from Kuwait.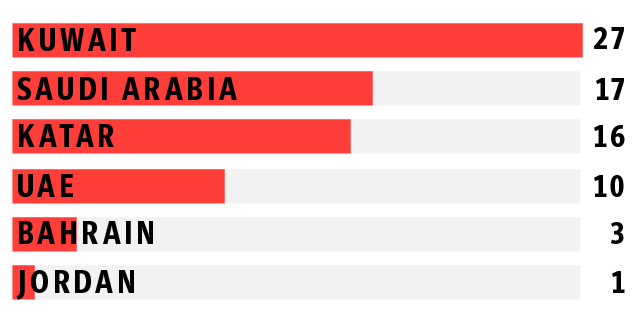 The hereditary royal succession in this kingdom has been in the hands of the Al-Sabah family for more than 250 years, and its members are to be found in all key government positions. But many of their subjects are now refusing to accept the monarchy as a ruling body, as could be seen in 2012 when approximately 100,000 Kuwaitis took to the streets in protest of their rulers. This protest was preceded by a bribery scandal that shook to the core the very foundations of the Emirate. Members of government and loyal members of Parliament had allegedly accepted bribes of up to 250 million euros, which resulted in Emir Sabah al-Ahmad al-Dschabir al-Sabah dissolving the government parliament.
There were potentially quite a few reasons for the powerful in Kuwait to hide their true wealth. Besides the relatives of the Emir that appear in the Panama Papers the Süddeutsche Zeitung database mentions 20 names of the Emir's direct family, which are named in the so called Swiss-Leaks data (also reffered to as HSBC files). Three Kuwaiti royals are, in addition, mentioned in Offshore-Leaks documents, data that traces to the very beginning of uncovering of tax haven leaks in 2013.
But it is not just members of the Kuwaiti royal family who are mentioned in the SZ database. Saudi Arabia counts even more of its royals named than Kuwait. Fifty-six members of the royal family of Al-Saud alone are to be found in all three leaks, 17 of these in the Panama Papers.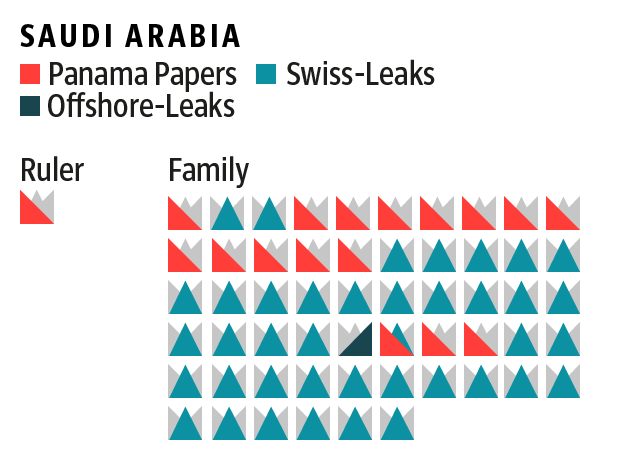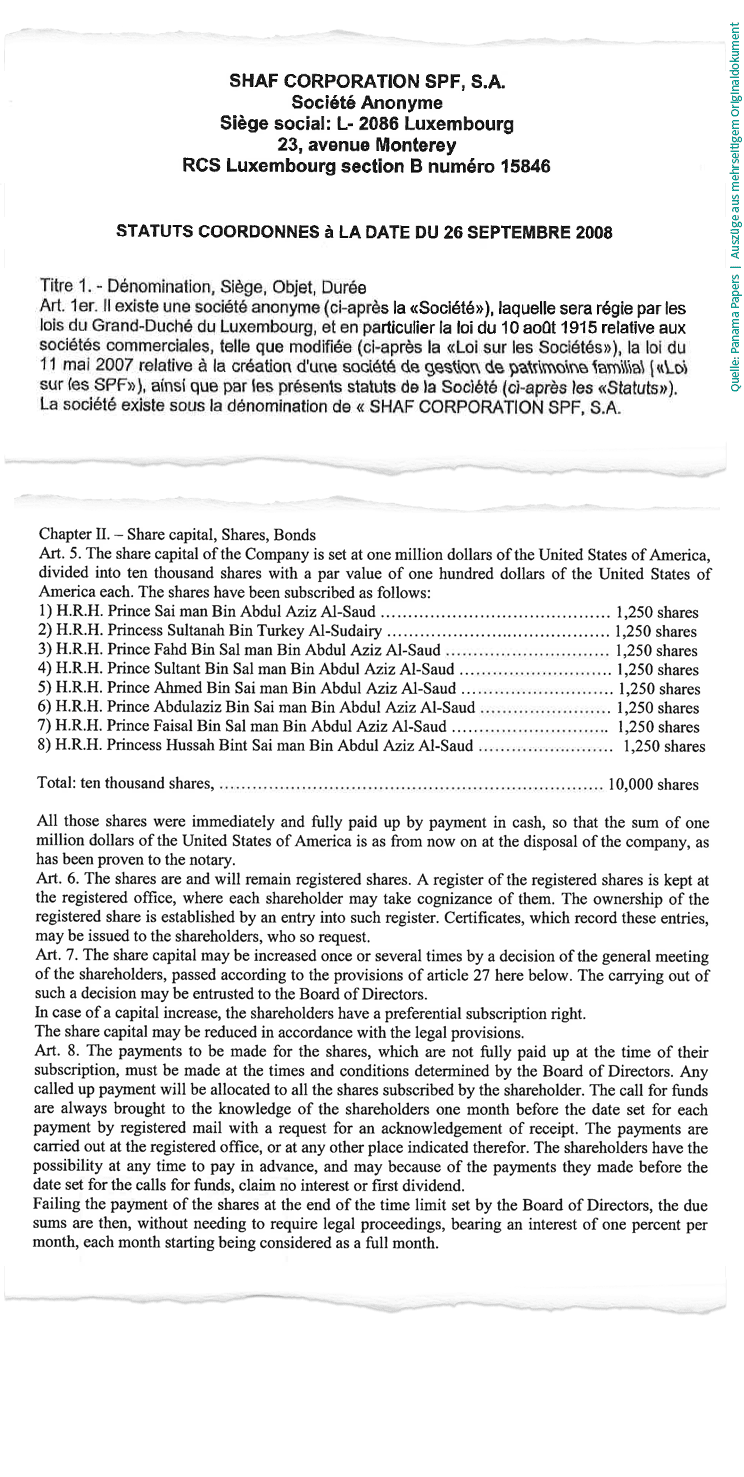 A document within this mound of information, dating to 1996, demonstrates that the aforementioned company owned a further seven front companies. Some of these had been founded in the 1970s and are, by now, inactive. But it seems that the king is still actively managing his rather opaque network of companies seeing as at least three Panama-based companies were active until a few weeks ago. But what kind of business he conducts through these companies is unclear. When asked to comment on these facts, a spokesperson of the Saudi Arabian embassy in Berlin apologized for a delay in responding as he was still waiting for an answer from the royal family. But the king ultimately never responded to the request of Süddeutsche Zeitung.
The question as to why an absolute ruler like Salman bin Abdulaziz al-Saud would want to hide his wealth remains a mystery. He does not have to evade tax laws and regulations as he is in charge of creating them. In addition, Saudi Arabia does not have a Parliament made up of elected members as all power rests with the monarch and his family. "Their way of becoming rich truly is the most extreme form of luck. You are rich just because you happen to be ruler of a country that has discovered oil, and the oil price happens to be rising at that time," says French tax economist Gabriel Zucman. "This form of extreme wealth is the basis for the risk of others questioning the legitimacy of your wealth, saying that it is totally unfair for one family to be so rich when in the same geographical region of the Middle East millions of people live in poverty." Nearly every third young person in Saudi Arabia is unemployed. This is a form of social divide that could eventually lead to upheaval.
Due to the lack of transparency laws, one can only speculate as to the wealth of the Sheikhs, Kings and Emirs of the Middle East. But we can describe it on the basis of the visible wealth. The yacht Al-Mirqab, for example, is not just simply a yacht, but a floating palace. It is 60 meters longer than any commercial airplane, complete with a cinema, several pools, bars and ten suites on 5,000 square metres, designed to house only 24 very special guests.
Up until now, it was always said that the majestic "barge" belonged to the former Emir of Qatar, Hamad bin Chalifa al-Thani. But the Panama Papers show that the construction of the boat was handled by a shell company registered in the Bahamas, called "Trick One Limited." According to the documents of offshore service provider Mossack Fonseca (Mossfon), David Atkinson, the supposed captain of the ship, was in charge of this particular company. When the Panama-based law firm conducted a routine background check of Atkinson in 2003 and asked, in line with this investigation, for him to provide two electricity bills, to establish his identity and place of residency, Atkinson replied via email:
The " " Due Diligence " " Documents they have requested can not be provided. For example they ask for 2 utilities bills!!!!! They have to find another solution.
But why are two harmless electricity bills too much to ask for? Probably because Captain Atkinson, general manager and sailor, does not exist. According to the Panama Papers, "Captain" Atkinson's email address was listed as part of the contact details for Sheikh Hamad bin Jassim bin Jabber al-Thani, former Minister for Foreign Affairs as well as Prime Minister of Qatar and second cousin to the Qatar head of state and one of the most influential men of the Arabian Peninsula.
A Mossfon employee sent an email to Captain Atkinson in 2006 but addressed it to "dear Mr. Sheikh Hamad." So why does the Sheikh need an alias? The Sheikh did not answer Suddeutsche Zeitung's request for clarification. But why do absolute rulers even need front companies? Asked by Süddeutsche Zeitung, two high-ranking members of a royal family in the Gulf region answered, that it would be totally illogical to think they would use offshore vehicles to avoid or minimise tax, as there are no taxes in their country. But their responses was not allowed to be officially quoted.
So the question as to why they would even need these companies if not for tax purposes has remained unanswered. But one thing is certain, namely that the Arab Spring has unsettled absolute rulers in the Middle East. There are not very many absolute monarchies left in the world, but most of them are to be found in the Middle East. It is the last domain of a dying form of government, as more and more citizens demand more rights, more justice and more democracy. How safe is the Emir of a Gulf state if even Muammar al-Gaddafi or Hosni Mubarak could be toppled? Many ruling families live in fear of the loss of power within their families and possible revolutions. "The aim is to get the money abroad in case one day, the country will no longer be under their rule," says Middle East expert Guido Steinberg.
The Swiss Leaks data did indeed reveal the names of many a loyal supporter of Middle Eastern rulers. Names such as that of the brother-in-law of the now toppled Tunisian dictator, Zine el-Abidine Ben Ali, who had a Swiss bank account containing more than $20 million.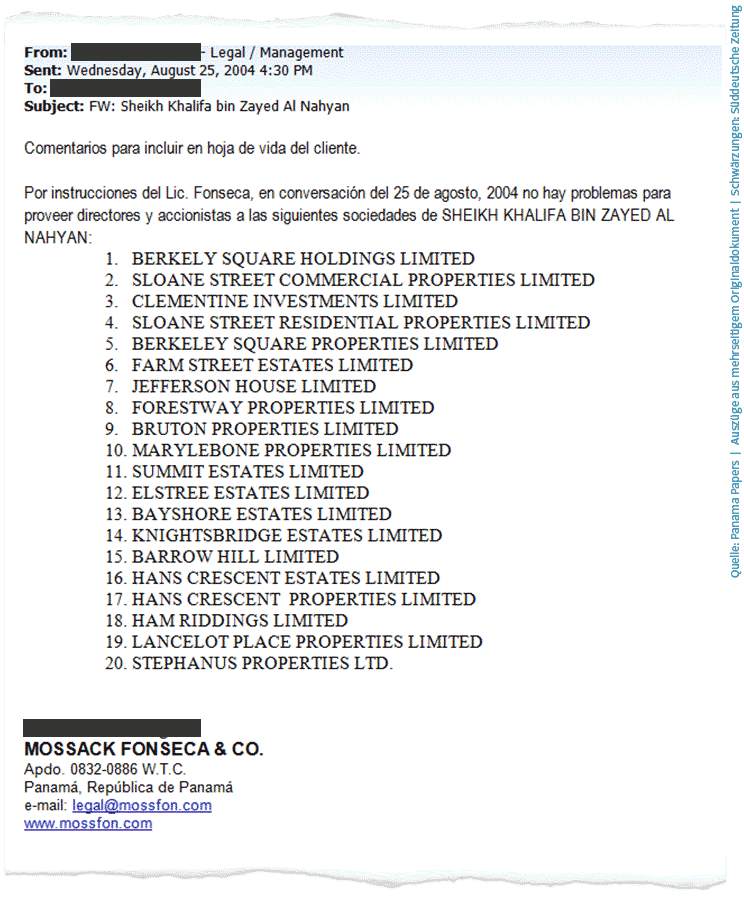 When Al-Nahyan wanted to close a real estate deal in 2011 and demanded
power of attorney for one of his companies, a discussion arose as to
what forms of identification he would have to provide to do so.
From: XXXXXX@mossfon.com
Mrs. Flax is on vacations currently. However, her comments regarding the provision of this type of powers of attorneys are: "[...] If the client is not cooperating with us in providing the DD then this should result in the cancellation of the POA [...]"
From: Jurgen Mossack
[...] Asking for a copy of the passport of the president of a country in my opinion is a bit too much to ask [...]
It is this type of image that ruling families also like to display when travelling. It was as late as 2015 when the ban on night time flights at Zurich airport was temporarily cancelled because the Emir of Qatar wanted to recuperate from a broken leg in Switzerland. He is supposed to have arrived in an Airbus that, if utilised commercially, could have transported more than 300 people. His retinue arrived in three additional planes, among them a jumbo jet. Insiders report that, at certain airports, the super-rich of the Middle East are allowed to enter the country without passports. If doubts as to their identity arose, the respective ambassador would be able to confirm said identity.
It seems as if Middle Eastern royals and their passports do not have to be intrinsically linked. The aforementioned Sheikh Hamad, cousin to the former Emir, seemed to think along the same lines. According to the Panama Papers, the Luxembourg branch of Mossack Fonseca wanted to provide Sheikh Hamad with power of attorney over a shell company in 2011. At the time, Hamad held the position of Minister for Foreign Affairs as well as Head of State, which gave him the status of "a politically exposed person." The caseworker at Mossfon contacted a partner of the law firm to ensure that she was authorized to close the deal, and he suggested to demand an exemption of liability from the Sheikh. This is a document that releases Mossack Fonseca from all legal responsibility should the Sheikh be planning to conduct any illegal business. This constituted a serious affront in the eyes of the billionaire and he replied: 
Referring to your e-mail with the attached indemnity letter I am sorry to inform you that I will not sign this letter. We have used your firm since some 25 years now and in many cases you act as directors. I never ever have been asked to sign such an indemnity letter and I have not been informed that i should sign something like this when you accepted to act as directors.
This email was apparently successful seeing as, all of a sudden, the partners of Mossack Fonseca seemed to be happy to accept due diligence for the proposed company:
From: Chris Z.
O.K. in view that the client has passed the due diligence by the client and the Luxembourg bank and in view that we have this written communication with our professional client, i suggest – FROM MY PART – to go ahead with this request.
It also seemed to not be a problem for the law firm to enter into business with the disputed rulers of Bahrain. Prince Nasser of Bahrain, together with his brother Khalid, was shareholder of a company registered in the British Virgin Islands. The opposition in Bahrain accuses Nasser bin Hamad al-Khalifa of having tortured prisoners at the beginning of the Arab Spring, when the mostly Shiite population rose against the Sunni ruling family. The government has always denied this.
But terrorism experts may be interested in two of the countries mentioned in the leaked documents, namely Qatar and Saudi Arabia, seeing as both ruling dynasties have been under suspicion of supporting Islamist groups in Syria for years. Both governments have regularly denied such allegations.
And to this day it has not been completely resolved as to what degree the Saudi Arabian royal family may have been involved in the 9/11 attacks. The al-Saud family deny any involvement. But a corresponding chapter of the 9/11 investigating commission has been under lock and key for years. The 28 pages of the chapter are said to refer, among other things, to the secret financing structures of the masterminds and assassins of the New York attack. Financing structures that could easily be hidden within a network of front companies.
English translation via Worldcrunch