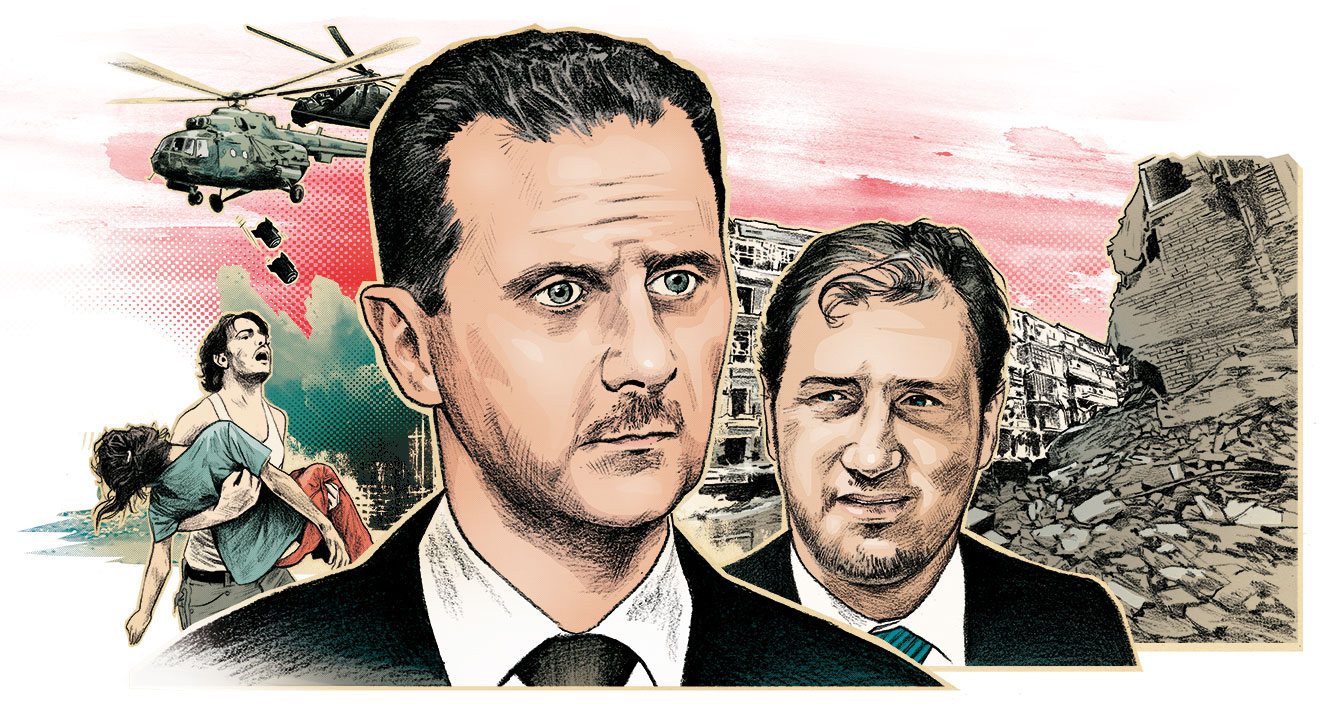 Shell companies: helping Assad's war
The men were loading potatoes onto a truck when barrels suddenly started falling from the sky. The earth shook and boulders flew through the air as a wall of dust took shape. Some of the men threw themselves to the ground, while others sought refuge in a shed. Then came the explosions: thousands of tiny pieces of metal shot through the air, piercing everything in their path.
The events of this 2012 September day in Marea, a town close to Aleppo, are emblematic of everyday life in the Syrian war – a bloodbath that has seen the army of Syrian president Bashar Al-Assad fighting against several Islamist factions, but also against the country's population. Since the start of the war, the Syrian air force has dropped thousands of barrel bombs: simple oil barrels filled with concrete, explosives, nails, and scrap metal. The aim has been to kill as many people as possible.

"There were six or seven people lying on the ground," a survivor of the Marea barrel bomb attack later recounted to Human Rights Watch. "It was a horrifying sight. One person was ripped in two, and the others were wailing in pain. Several people had lost arms and legs."
Syria's civil war has been raging for five years now. More than ten million people have been displaced, and at least 250,000 have died. Some estimates are as high as half a million dead, most of whom have been killed by Assad's regime. In a bid to stop the murders, a number of countries, including the EU and the United States, imposed sanctions against Assad, his family, and his closest allies as early as 2011. In 2008, years before the war in Syria broke out, the United States had already slapped sanctions on one of Assad's cousins.
The Panama Papers now suggest that the Syrian regime found discreet ways of evading the sanctions to access the funds or fuel it urgently needed for the war. Mossack Fonseca (Mossfon) appears to have played an important role in the matter. Since the beginning of last week, the Panamanian law firm has been at the center of the Panama Papers revelations. According to the leaked documents, Mossfon administered a number of shell companies closely linked to the Assad regime. Evidently, the people in charge at Mossfon were not bothered by the US and European sanctions lists. According to the documents, they even took into account that their activities could violate sanctions.
The case shows why dictators, terror groups, and criminal organizations use shell companies to evade sanctions and continue doing business as usual. Mossack Fonseca's client lists appear to include sanctioned members of Mexican and Guatemalan drug cartels, suspected financiers of terror organizations such as Hezbollah or Al-Qaida, and the middlemen of autocrats like Zimbabwe's President Robert Mugabe. Companies sanctioned for their support of the Iranian and North Korean nuclear programs also appear on Mossfon client lists.
Mossfon denies that it does business with sanctioned persons. In response to the International Consortium of Investigative Journalists' (ICIJ) request for comment, the law firm explained that it "never knowingly" allowed persons with links to Syria or other sanctioned states to use "our companies".
The supplier
The Panama Papers suggest otherwise. The documents reveal the names of dozens of people and companies with which Mossfon apparently is or was linked to, and who are or were on sanctions lists. Perhaps in no other case have the consequences of these potential links been as grave as in Syria. 
If Assad has been able to continue waging war with such brutal force, it is in large part because he has not run out of gasoline. Despite international embargos, the regime has enjoyed a continuous supply of fuel, which it has used for its tanks and fighter jets. According to experts, the lion's share of this supply has flowed through the Arab Emirates.
For quite some time now, the American authorities have considered a company called Maxima Middle East Trading to be the hub of a complex network of companies in the United Arab Emirates, Syria, Switzerland, and the Netherlands. With the help of fake papers, this network has allegedly been used to deliver gasoline to Syria. For this reason, in 2014 Maxima Middle East Trading and its director were placed on the US sanctions list.

The Panama Papers now show that Maxima Middle East Trading was registered by Mossack Fonseca in 2012.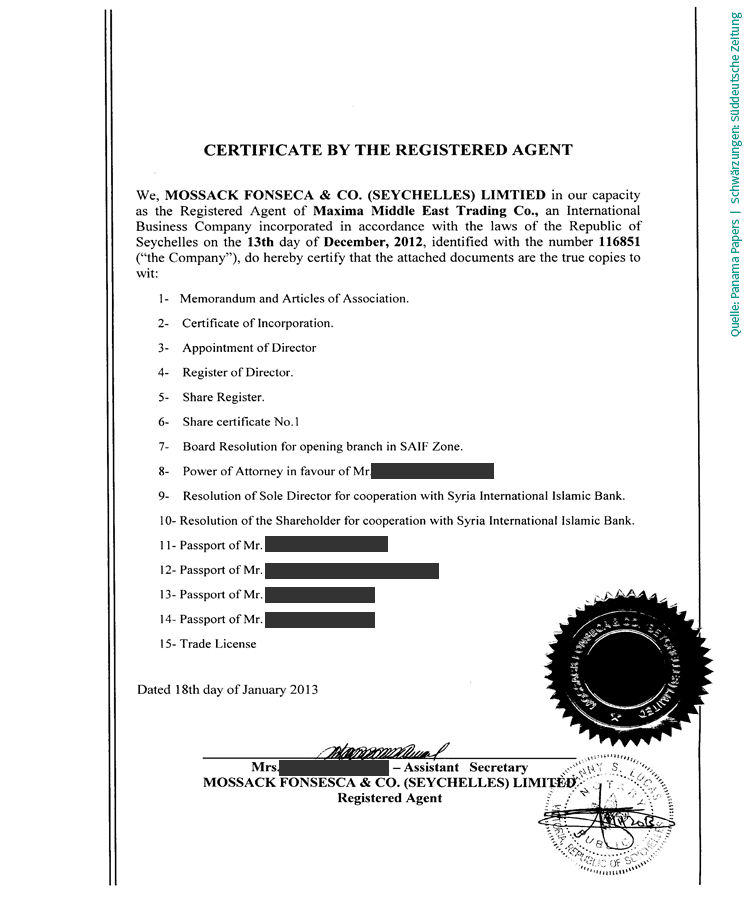 In 2013, almost two years after the war in Syria had begun, the law firm ostensibly helped open an account for the company at the Syria International Islamic Bank. A year earlier, the US government had sanctioned the bank because it allegedly provided the Assad regime money and helped it evade sanctions. The Panama Papers do not appear to contain clues suggesting that Mossfon saw any reason to cut ties with its client.
According to the information of the US authorities, two other companies besides Maxima Middle East Trading were allegedly involved in gasoline smuggling: Pangates International Corporation Ltd. and Abdulkarim Group. Both of these companies had links to Mossack Fonseca. For a long time, the owner of Abdulkarim Group, considered a supporter and beneficiary of the Syrian regime by the EU, was also the director of Morgan Additives, a company that Mossfon administered.
In response to a request for comment, Morgan Additives stated that the man had left this position at the beginning of 2015, and that the company was not currently active.  
In the Panama Papers, Pangates International Corporation Ltd. appears to have been headquartered in three tax havens since it was established in 1999. The company was founded in Niue, an island in the South Pacific, and was then moved to Samoa before it finally moved to the Seychelles in 2012. The United States has since imposed sanctions on the company. According to the US government, Pangates has provided "material support for, and goods and services to, the Government of Syria". And yet the company appears to have remained active for another year after it was sanctioned.
Neither of the two companies responded to SZ's request for comment. In turn, Mossfon stated that it does not encourage illegal activity.

The financier
According to intelligence experts, the money that has fueled Syria's war can also be traced to a businessman named Rami Makhlouf, whose name appears repeatedly in the Panama Papers. Not only is Makhlouf Assad's cousin, he is also said to be Syria's wealthiest man and the regime's biggest financier. As children, he and Assad were playmates. Today, they are close allies.
It cannot be ruled out that Rami Makhlouf supplies the funds used to produce poison gas, operate torture facilities, or supply arms and vehicles to the dreaded Shabiha militia. As early as 2008, when it became clear that a small group of Assad-approved people were growing wealthier at the expense of the population, Makhlouf was placed on US sanctions lists. The American authorities justified this move with the assertion that he "benefits from and aids the public corruption of the Syrian regime officials".
At the time, Rami Makhlouf had been a Mossack Fonseca client for almost ten years. Since 1998, he had been listed as the majority shareholder of Polter Investments, a company headquartered in the British Virgin Islands.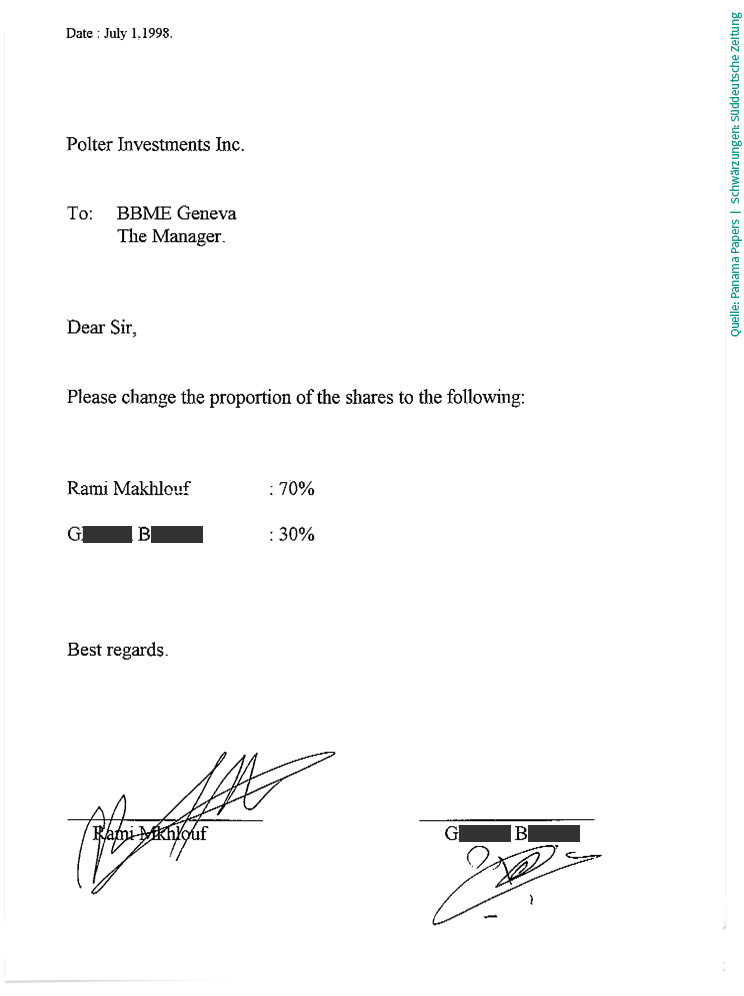 By 2002 at the very latest, Mossfon could have been aware of who Makhlouf was, and how close he was to Assad's regime. The same year, documents arrived at Mossfon about a court case between Drex Technologies and an Egyptian company. The documents revealed that Rami Makhlouf was "the current Syrian president's maternal cousin". Despite this, in 2015 Mossfon told the Swiss daily Tagesanzeiger that
"Mossack Fonseca DID NOT KNOW that Mr. Makhlouf or any other Assad allies were indirectly using and abusing our services!"
As the Panama Papers show, this statement appears to have been false.
According to the documents, Rami Makhlouf was also director or shareholder of three other companies: Cara Corporation, Dorling International, and Ramak Limited, all of which were founded between 1996 and 2006 in the British Virgin Islands and Panama.
Nevertheless, after war broke out in Syria in 2011, nothing changed at first. Mossack Fonseca continued to administer a network of companies that appear to have been owned by the Syrian president's regime. There were, however, people at the law firm who expressed concern about this. In the spring of 2011, the Mossfon compliance department – the department in charge of ensuring that the company observes laws and regulations – wrote to Mossfon's partners and senior executives, asking whether they really wanted to continue doing business with Rami Makhlouf, and thus violate sanctions that had been in force since 2008. The memo asked whether it might be better to cut ties with Makhlouf, and explained that clients' names appearing on sanctions lists should be taken as a "serious red flag". The company, it concluded, should distance itself from such people.
In an email dated February 17, 2011, one of the law firm's partners dismissed these concerns:
Sender: Chris Zollinger - Recipient: Compliance Department
"From my part –if HSBC Head Quarters in England – do not have any issue with the client, then I think we can also accept him …"
The companies were eventually closed little by little, but only after the European Union followed the United States' example and also imposed sanctions against Makhlouf in May 2011. Drex Technologies was active the longest. According to the Panama Papers, it was ultimately closed about four years and two months after Makhlouf had been sanctioned by the United States in 2008.
Rami Makhlouf declined to respond to SZ's request for comment on the matter. In turn, Mossfon declared it did not know Makhlouf "until his name and his connections were reported in the media."
The torturer
Besides Rami Makhlouf, the Panama Papers mention the names of three of his brothers, also Assad's cousins. Of the hundreds of thousands of Syrians currently leaving their country, many are not fleeing the Islamic State, but rather Assad and men like him. For a time, Hafis Makhlouf was in charge of a torture facility in Damascus. He was also allegedly behind the August 2013 poison gas attack on the city of Ghuta, which resulted in the deaths of hundreds of Syrians. For his part, Ehab Makhlouf was vice-president of the Syriatel telecommunications company suspected of providing the regime funds. And finally, Eyad Makhlouf, a captain in the Syrian army, is also a secret officer suspected of having been involved in many attacks on Syrian civilians. The EU sanctioned the three of them in May 2011, and all of them are co-owners of companies that Mossfon set up and administered. Some of these companies were active as recently as 2012.
The fixer
According to the Panama Papers, a man named Suleiman Marouf also held shares in at least half a dozen shell companies. In some instances, these companies owned real estate in Great Britain. Marouf has a reputation for being Assad's "London fixer": a middleman for dubious business transactions in the city. Suleiman Marouf allegedly supported the Syrian propaganda network that fueled the civil war with millions in funding. As emails published by Wikileaks revealed, he also purchased expensive Ming vases and Armani interior furnishings at Harrod's for Assad's wife Asma, long after she was a persona non grata in Europe.
Ten months after Marouf was added to the EU sanctions list, Mossack Fonseca's compliance department concluded that "according to our risk assessment, these companies high risk" Despite this, Suleiman Marouf was kept as a client. Following pressure from the British foreign office, in 2014 his name was removed from the EU sanctions list for lack of evidence that would stand up in court.
In response to a request for comment, a law firm representing Marouf stated that past sanctions against their client were based on "false and unsubstantiated allegations". Questions about Marouf's alleged activities for Asma al-Assad remained unanswered.
Contributors: Will Fitzgibbon, Martha Hamilton